2011 TT Privateers champion, 10 times a top fifteen TT finisher, Ian 'Mackers' Mackman who's also enjoyed positive moments a plenty at Scarborough, is the next racer to take part in Road Racing News growing in popularity, Oliver's Mount Top 8 series.
Formerly part of the works Norton Racing set up, his answers to the Scarborough themed set of questions are as follows:
Q1: First memory of Oliver's Mount?
"My first memory of Oliver's Mount was my first time there, the Cock O'The North meeting in 2009. Riding for the PRF team on their GSX-R 600 Suzuki.
Walking the track on the evening that we arrived, I was pretty shocked at how narrow the place was. It was dusk and none of us were exactly sure if we were on the track or the access road at first!!"
Q2: Favourite part about racing at the mount?
"I enjoyed riding the circuit at Oliver's Mount, some fast parts, some very technical. To be totally honest racing others on the track is hard work, as it's difficult to make a properly clean pass with the limited room available."
Q3: Favourite section of Scarborough course?
"My favourite section of the course is the last part (Farm Bends?) coming off the final jump off centre, braking hard into the right, a great overtaking spot too, flowing it down into the positive cambered left, up onto the negative cambered exit to the finish line, high side city!"
Q4: Best moment thus far at Scarborough?
"Probably my main highlight at Scarborough was at the Cock O'The North in 2010, crossing the line at the completion of a 1000cc race just behind Ian lougher or Adrian Archibald for fourth place. I figured for my second time there, I had to be happy with that result."
Q5: All time Scarborough racing hero?
"I think along with a lot of people I'd have to say Barry Sheene was my favourite rider. I've never been a big one for hero worship but you have to respect a man like Barry, both on and off the bike."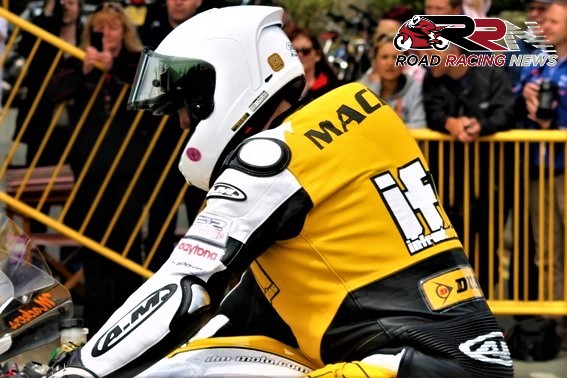 Q6: Is there one machine in particular that you would like to race at Scarborough?
"As a huge two stroke fan I'd come out of retirement to race a GP 250 anywhere!!! Agile, powerful and rewarding.
That aside I'd be well up for a Suter ride too!! What a machine that would be at the Mount!"
Q7: One word to describe Oliver's Mount?
"Roller coaster"
Q8: Most respected racing rival at Scarborough?
"Once again hero worship isn't really my thing. In my few years at Oliver's Mount, Ryan Farquhar was the man there, unstoppable!"
Words by Stevie Rial