You can apply, the term going under the radar to many rising roads exponents, in particular in my opinion, this has to be applied to the improving Mike Norbury.
Race action, at a sun drenched Cock O'The North Road Races at Oliver's Mount, for the Manchester based racer, began with a very respectable seventh, in the first leg of the Junior A races.
Next up, was Solo Open A Race 1, which would prove extremely prodigious for Mike, who's fourth place finish, finishing in front of multiple Scarborough specialists, has to be considered amongst his best performances to date at England's only pure roads venue.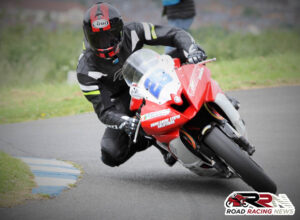 Unfortunately, this proved the last Mount action of the weekend, for the Spada backed rider, who's YZF R6 Yamaha had sustained a hole within it's engine casing.
Commenting on the latest spate of bad luck, to afflict his 2017 roads campaign, Mike said:
"Basically this years not going to plan we are getting the results we are wanting but then being hit with problems.
For example Spring Cup qualified 3rd in 600 then crash, Cookstown qualified 9th in 600 then frame snapped, blew an engine start of season and at the cock of north got 7th in 600 and 4th in solo open then we got a hole in engine casings so had to pull out.
Supposed to be doing Skerries, Armoy, rest of Scarborough's and main focus the Manx. Only meetings going well are the Aintree ones won every race there this year the last one by 9.7 seconds but the roads isn't going to plan."
Despite unfortunate problems a plenty, Mike has already showcased this year, why he has to be regarded amongst the most improved real roads exponents.
Words by Stevie Rial