Anticipation is building and building ahead of the start of 2018 Irish roads season tomorrow, at the KDM Hire Cookstown 100, which on Friday hosts a full day of practice sessions, plus three races in the evening, including a Supersport invitational race.
Alongside Michael Dunlop making his eagerly awaited maiden Tyco BMW roads stint, lots of focus will also be on Cookstown BE Racing's Derek Sheils, who's aiming to make it a hat trick of feature race crowns at Irish road racing's longest running roads event.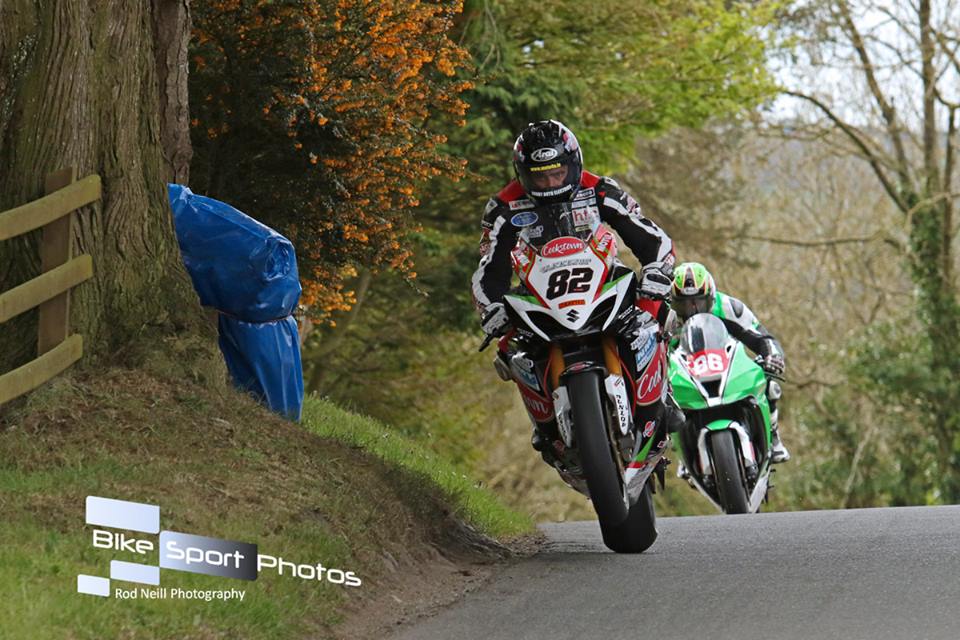 Photo by Rod Neill
Others amongst the 190 plus entry, keen to begin their 2018 roads stints in style include William Dunlop, Derek McGee, Joe Loughlin, Paul Jordan, Michael Sweeney, Davy Morgan and McAdoo Racing's Adam McLean/James Cowton.
Talented racers set to tackle the Orritor circuit for the first time tomorrow, include Noel Williamson Racing's Darren Cooper, Owen Graves, Morgan Govignon, Davey Todd and rising roads talent from New Zealand, Daniel Mettam.
The full run down of the practice/race schedule, for the 2018 KDM Hire Cookstown 100, is as follows:
Friday 27th April – Roads close 12:00 PM
Practice Order:
Newcomers Group A 5 Laps
Newcomers Group B 5 Laps
Open Group A 5 Laps
Open Group B 5 Laps
Open Group C 5 Laps
125/Moto 3 5 Laps
Senior Support Group A 5 Laps
Senior Support Group B 5 Laps
Senior Support Group C 5 Laps
Junior Classics Group A 5 Laps
Junior Classics Group B 5 Laps
Supersport Group A 5 Laps
Supersport Group B 5 Laps
Supersport Group C 5 Laps
Senior Classics Group A 5 Laps
Senior Classics Group B 5 Laps
Super Twins Group A 5 Laps
Super Twins Group B 5 Laps
Super Twins Group C 5 Laps
Junior Support Group A 5 Laps
Junior Support Group B 5 Laps
Junior Support Group C 5 Laps
Supersport 400 Group A 5 Laps
Supersport 400 Group B 5 Laps
Race Order:
Senior Support B Race 6 Laps
Supersport Invitation Race 7 Laps
Open Non Championship B Race 6 Laps
Saturday 28th April – Roads close 10:00 AM
Race Order:
Open A Race 7 Laps
125/Moto 3 Race 7 Laps
Supersport A Race 7 Laps
Supersport B Race 6 Laps
Junior Support A Race 7 Laps
Junior Support B Race 6 Laps
Junior Classics Race 7 Laps
Super Twins A Race 7 Laps
Super Twins B Race 6 Laps
Senior Classics Race 7 Laps
Non Qualifiers Race 5 Laps
Cookstown 100 A Race 8 Laps
Cookstown 100 B Race 6 Laps
Senior Support A Race 7 Laps
Supersport 400 A Race 7 Laps
Supersport 400 B Race 6 Laps
Words by Stevie Rial