Gareth Keys All Set To Make TT Debut
Photo by Road Racing News
Gareth Keys is all set to make his Isle of Man TT debut in 2015. Gareth enjoyed a highly prodigious 2014 road racing season which included securing his first race victory around Oliver's Mount.
This was achieved at the cock of the north road races as he powered his way to senior B race 1 victory. Feature race at the popular meeting saw highly creditable top 10 finish recorded as the rising road racing star proved why he is considered a future front runner in the Steve Henshaw international gold cup.
Other highlights in 2014 included top 15 finish in opening supersport race at the Ulster Grand Prix, 10th position in super twins race 1 at North West 200, top 12 finish in race of legends at Armoy and excellent results in both supersport races at the Scarborough gold cup.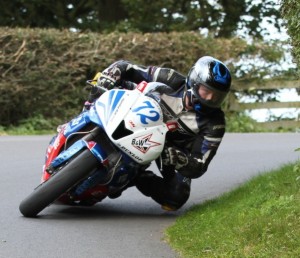 Photo by Road Racing News
The 2013 Ulster Grand Prix 250 race winner is looking forward to competing for B&W (Brian and Wendy Hull) racing next season with arguably the main highlight been making his TT debut.
Gareth has for the last two months learnt a lot of the mountain course and is confident of securing positive results in his first year of competition at the worlds most famous road race.
In recent years we've seen newcomers to the Isle of Man TT adapt extremely quickly and Gareth has all the components to do the same. Its an exciting opportunity for a rider who is amongst the most improved riders in pure road racing over the last two seasons.