Twice breaking the outright lap record, Martin Bullock Manxsport's Michael Evans powered to Senior success becoming the first rider since Andrew Brady in 2011 to do the Junior/Senior Manx GP double.
Blitzing the existing lap record from a standing start lapping at 122.657 mph, he steadily pulled away from PRF Racing's Barry Evans who was also on record breaking pace, moving his race lead from lap 1 of 6.1 seconds up to almost 11 seconds on lap two, as he set another new lap record, lapping at 122.866 mph.
Thanks to Welshman Evans encountering problems at the end of lap three, his race winning margin stood astonishingly at over a minute.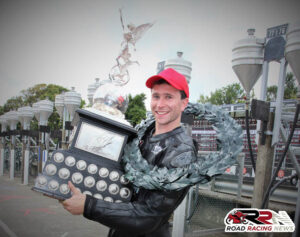 Reflecting on his third, but without a doubt most important Manx GP success, he said:
"I knew if I didn't have any traffic, I could do it. I got +6, +5, +4 on lap 1 and thought if I want to win this, I've got to concentrate, make no mistakes, get the head down.
When I got +78 on lap four at Glen Helen, I couldn't believe it! from there just took it steady to bring it home."
Photo by Mark Corlett
When asked about future plans of stepping up to the TT Races, the talented Manxman stated:
"I definitely want to move up, it's a big step though, we'll see what winter brings."
Race runner up Barry Evans, who will also be considering moving into TT competition next year, became the second fastest rider in Manx GP history, lapping on lap 2 at 122.344 mph.
2014 Newcomers B winner Dean Osborne in third place also joined the 'Tommy Club', as did David "The Hammer" Lumsden who's final lap speed of 120.956 mph was just enough to overall Jamie Williams for fourth.
Photo by Jim Gibson
Finalising the top six finishers was Scarborough's Nick Anderson, who's performance was made all the more impressive that in practice week Nick was involved in an incident at Ramsey Hairpin, sustaining a shoulder injury.
Photo by Nick Wheeler
Remaining positions in the top ten were clinched by Glenn Harrison, Newcomers A runner up Darryl Tweed, Lightweight winner Darren Cooper and Tom Robinson.
Others to impress included Stephen Smith 12th, Wayne Humble topping the 118 mph mark for the first time in finishing 13th, Stuart Hall 14th, Damian Horan 17th and Paul "Potchy" Williams 19th.
Senior Manx Grand Prix Race Results:
1 Michael Evans
2 Barry Evans
3 Dean Osborne
4 David Lumsden
5 Jamie Williams
6 Nick Anderson
7 Glenn Harrison
8 Darryl Tweed
9 Darren Cooper
10 Tom Robinson
11 Rhys Hardisty
12 Stephen Smith
13 Wayne Humble
14 Stuart Hall
15 Steven Procter
16 Brendan Fargher
17 Damian Horan
18 Marc Ironside
19 Paul Williams
20 Rob Whittall
21 Victor Lopez Santos
22 Matt Mylchreest
23 Peter Wilkinson
24 Emmett Burke
25 David McConnachy
26 Adrian Hartog
27 Sam Johnson
28 Michael Hand
29 Rad Hughes
30 Erik Kjuus
31 Frederic Besnard
32 Dennis Booth
33 Callum Ward
34 Rodger Wibberley
35 Jason Brewster
36 Steven Horne
37 Marc Colvin
38 Andy McPherson
39 Shaun Evans
40 Andrew Windsor
41 Leon Murphy
42 Nigel Rea
43 Justin Collins
44 Colin Croft
45 Andy Lovett
46 Robert Nelson
47 Stuart Bedford
48 Tommy Henry
49 Daryl Dorlich
50 Ross Orchard
51 Stuart McCann
52 Steve Moody
53 Adam Bauer
54 Tom Snow
55 Peter Creer
56 Andreas Psychogyios
57 Richard Vuillermet
58 Steven Beale
59 Peter Moore
60 Paul Van Der Heiden
61 Noel Carroll
62 Gavin Brown
63 Darran Creer
Words by Stevie Rial