DC Racing's Norbury Aiming For Next Level At Scarborough
Since racing returned to Oliver's Mount, Scarborough in 2019, DC Racing's Mike Norbury has gone from strength to strength at North Yorkshire's 'Mini TT'.
Runner-up in last year's Steve Henshaw Gold Cup, 2020 action at the Mount has seen Norbury continue his impressive progress.
Collecting three top 3 finishes from this year's Scarborough meetings, Norbury was firmly upbeat when reflecting on August, September's Barry Sheene Classic, Gold Cup competition.
"I'm really pleased with my performances this year! It was my first time there with DC racing on the ZX6 (Kawasaki) and I got faster every time! Apart from when the linkage bolt decided to come out.
I really enjoyed all the races at the Gold Cup! There was lots of us on similar pace so it made it more fun. Real close racing!"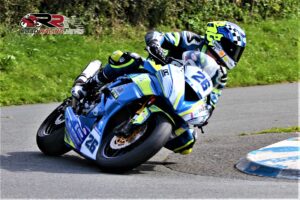 Adding his delight at joining during the 69th Scarborough Gold Cup, a select group of racers to go sub 1 minute 48 seconds around Oliver's Mount, he stated:
"Yeah I was buzzing to get into the 1.47s. Like I said it was close racing and I think we all did under 1.47 up to 5th place so it shows the quality this year. I'd like to get a 1.46 lap time next season so we will give it a go."
Actively looking to unlock that next level at England's only closed roads venue, the Manchester racer is looking forward to tackling all Scarborough events in 2021 with DC Racing.
As previously stated going from strength to strength, he's certain to provide firm opposition again next year to the likes of Lee Johnston, Dean Harrison, Dominic Herbertson, Joe Thompson to name but a few.
Words by Stevie Rial