In a race which saw up to three different leaders the supersport race A at Cookstown 100 provided already a contender for race of the season. Derek Sheils like in the open race got a great start this time competing on R6 Yamaha for CD racing, Derek Mcgee and William Dunlop where in close proximity for second and third place at the end of lap 1 as Sheils lead out front.
On laps 2 and 3 positions out front remained the same although Derek Sheils, Derek Mcgee, William Dunlop and Michael Dunlop where all close together as the battle for supersport race A victory was hotting up. By lap five Mcgee had hit the front marginally in front of Sheils with the Dunlops not far behind, the crowd at this years Cookstown 100 where being a treated to a cracking supersport 600 race.
At the end of lap six Michael Dunlop made his move as he surged to front on his CBR 600 Honda supersport bike, Michael was showing true grit and determination despite racing with a arm injury. The seven time TT winner crossed the line on the final lap of the race to record a well deserved supersport race A win.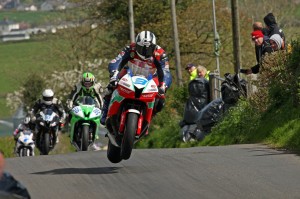 Photo courtesy of Rod Neill
Derek Mcgee gave it everything in finishing in second place in front of Derek Sheils and William Dunlop. The top four in the race where covered by just two seconds. Dan Kneen produced an excellent performance on the Cookstown/Burrows Engineering CBR 600 Honda to finish fifth in front of Jamie Hamilton who rounded out the top six.
James Kelly, Seamus Elliott, Sam Wilson and Michael Sweeney finalised the top ten. Connor Behan showed good form on the KMR Kawasaki supersport bike whilst Davy Morgan rode a consistent race throughout to finish in 12th place on the CSC racing R6 Yamaha. James Cowton was second newcomer home in 15th place whilst Daley Mathison recorded 18th place finish and Tom Robinson impressed with a top 20 finish.