Although there was the odd damp patch around the Mountain Course, conditions in general where overall pretty good, for the four lap Junior Classic TT.
Lap 1 at Glen Helen saw Michael Dunlop move into race lead, by 7.3 seconds over Michael Rutter, with Jamie Coward, Alan Oversby, James Cowton and Cameron Donald completing the top six.
William Dunlop was an early retirement on the Davies Motorsport Honda at Ballacraine.
At Ballaugh Bridge his brother Michael's race lead extended to 10.87 seconds over Rutter in second, as Coward remained in third 3.2 in front of Oversby.
By Ramsey Hairpin the gap at the front was down marginally to under 10.5 seconds, but by the Bungalow the race leaders advantage moved out close to 11.5 seconds.
As the opening lap reached it's conclusion Dunlop and Rutter where together on the road, as the crossed the finish line, with the timing gap between them, standing at pretty much 11 seconds.
Jamie Coward remained in third place, nearly five seconds clear of Alan Oversby, Cameron Donald was fifth, whilst TT Races hero Dave Madsen Mygdal slotted into sixth place.
Confirmed retirements at the end of lap one included James Cowton, Peter Boast, Dan Hegarty and Dean Harrison at the pit lane.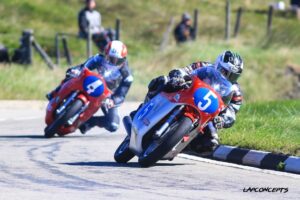 Photo by Louis Porter
Onto lap two and Dunlop and Rutter continued to battle it out at the front of the field. The gap between them varied them at specific timing points, with Dunlop's lead been 11.459 at Ballaugh Bridge, then under 11 seconds at Ramsey Hairpin.
By Cronk Ny Mona Rutter got Dunlop's race lead down to under the ten second mark, as he began to hit great form on the Ripley Land Racing Drixton Honda.
As Dunlop entered the pits at the completion of the second lap, his advantage out front stood at 7.153 seconds.
Rutter went straight through onto his third lap, to move into race lead by in excess of 30 seconds.
Main position change within the top six on the leader board on lap two, was Dan Cooper piloting the CSC Racing Honda, moving into sixth.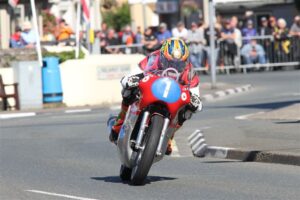 Photo by Nick Wheeler
So onto lap three and having not pitted, Rutter moved 35 seconds clear at Glen Helen, but Dunlop was on a charge on the Black Eagle Racing MV Agusta.
Showing typical ultra determination, he got the gap at the front down to 19 seconds at the Bungalow, then 14.242 at Cronk Ny Mona.
As we entered the final lap of the race, Rutter's lead stood at a firmly reduced advantage of 13.821 seconds, could he hold off a charging Michael Dunlop for race victory, it was going to be a big ask for the four times TT winner.
Outside of the leading duo, there was drama in the battle for the final spot on the podium, as Jamie Coward was forced out of contention at Kerrowmoar.
Photo by Louis Porter
This elevated Alan Oversby in third, Cameron Donald into fourth, Dan Cooper held fifth position with Danny Webb holding sixth.
At Glen Helen on the fourth and final lap, Rutter's lead moved down to 4.277 seconds, it was obvious to many that by the next timing point, Dunlop would move back into race lead.
This would prove the case, as at Ballaugh Bridge he held an advantage of two seconds over Rutter, who despite giving it everything was powerless to hold off the challenge of Dunlop and the Black Eagle Racing MV Agusta.
The rest of the fourth lap would see Dunlop pull further clear, by the Bungalow leading 10.066 seconds, as he homed in on yet another victory around the Mountain Course.
He went onto cross the finishing line at the end of lap four, to secure a hard earned Junior Classic TT victory.
It's Michael's third victory at the Classic TT races, plus it's also Black Eagle Racing's third success at the popular meeting.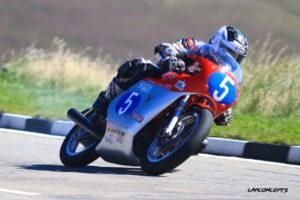 Photo by Louis Porter
Michael Rutter in second place, was overall happy as he gave Ripley Land Racing, another significant Classic TT result.
Finalising the podium finishers was Alan Oversby on the Davies Motorsport Honda.
Cameron Donald finished fourth, Dan Cooper was fifth, Danny Webb impressed in finishing sixth, as did Alex Sinclair in seventh place.
The top ten was rounded out by Phil McGurk, Dave Madsen Mygdal and Bill Swallow.
Overall a top quality race around the Mountain Course, which brought Michael Dunlop his 17th success on the most famous road racing circuit in the world.
Classic TT Races – Junior Race Results:
1 Michael Dunlop
2 Michael Rutter
3 Alan Oversby
4 Cameron Donald
5 Dan Cooper
6 Danny Webb
7 Alex Sinclair
8 Phil McGurk
9 Dave Madsen Mygdal
10 Bill Swallow
11 Chris Petty
12 Hefyn Owen
13 Mark Herbertson
14 Ewan Hamilton
15 Steve Ferguson
16 Jason Markham
17 Nick Jefferies
18 Keith Dixon
19 Maria Costello MBE
20 Jack Hunter
21 Jeff Smith
22 David Hastings
23 Jaeson Caunce
24 Brian Cooper
25 Arthur Browning
26 Grant Sellars
27 Mick Moreton
28 Edward Poole
29 Neil Watson
30 Roy Phipps
31 Billy Cummins
32 Geoff Bates
33 Richard Wilson
34 Paul Matravers
35 Rod Graham
36 Ian Michael Thompson
37 Arthur Jones
Words by Stevie Rial