In nigh on perfect conditions, many of the anticipated 2017 RST Superbike TT front runners, lighted up a Saturday practice session, filled with world class performances.
Bennetts Suzuki's Michael Dunlop laid down a marker ahead of the six lap race, setting the first 131 mph lap of TT 2017, lapping from a standing start at 131.062.
Already a three times Superbike TT winner, the Ballymoney based rider, is showing extremely impressive form, with the newest incarnation of the GSX-R 1000.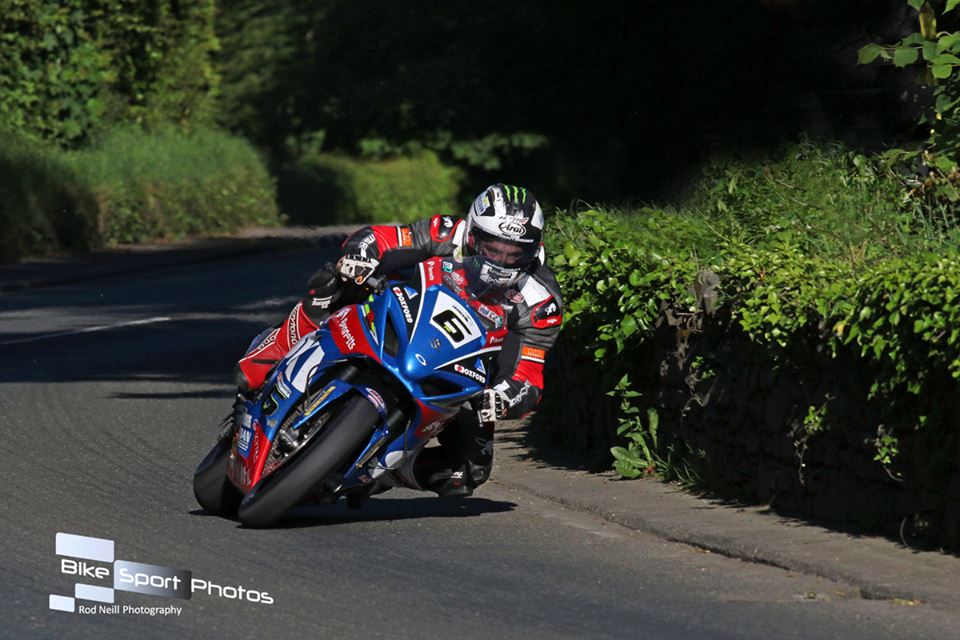 Photo by Rod Neill
It firmly looks like Suzuki are back in the big time, within the international roads scene.
Smiths Racing's Peter Hickman underlined why he is regarded as a contender for Superbike honours, finishing second quickest, lapping at 130.629 mph, finishing quicker than anticipated leading BMW Motorrad entrant, Ian Hutchinson.
Dan Kneen produced arguably the performance of practice today, setting his fastest ever lap, unofficially at the TT Races, via lap speed of 130.324 mph.
Fifth fastest behind the Penz 13 BMW, was Friday pace setter Bruce Anstey, Bathams SMT Racing's Michael Rutter, was the only remaining competitor to lap in excess of the magical 130 mark.
Dean Harrison (129.187) lead the Kawasaki challenge, as Lee Johnston (128.896), James Hillier (128.576) and Martin Jessopp (127.887).
Padgetts Racing's Conor Cummins (127.622) had a low key practice session, which proved a bit more fruitful for Norton with David Johnson and Josh Brookes, both lapping in excess of 126 mph.
Danny Webb (Penz 13 BMW) and Joe Akroyd (Oilee Racing), where both involved in incidents this morning, Road Racing News wishes both of them, a speedy recovery.
Unfortunately with just minutes to go in the session, practice was red flagged, due to an incident at Greeba Castle.
TT 2017 – Saturday Practice – Superbike Results:
1 Michael Dunlop 131.062
2 Peter Hickman 130.629
3 Ian Hutchinson 130.327
4 Dan Kneen 130.324
5 Michael Rutter 130.036
6 Bruce Anstey 129.913
7 Dean Harrison 129.187
8 Lee Johnston 128.896
9 James Hillier 128.576
10 Martin Jessopp 127.887
11 Conor Cummins 127.622
12 Dan Hegarty 127.462
13 Jamie Coward 127.437
14 Gary Johnson 127.432
15 David Johnson 126.938
16 Derek Sheils 126.709
17 Ivan Lintin 126.514
18 Phil Crowe 126.271
19 Josh Brookes 126.006
20 William Dunlop 125.775
21 Dan Stewart 125.564
22 Sam West 125.377
23 James Cowton 124.828
24 Horst Saiger 124.197
25 Brian McCormack 124.028
26 Michael Sweeney 123.652
27 Danny Webb 123.348
28 Guy Martin 123.316
29 Dan Cooper 123.153
30 Alan Bonner 123.040
Words by Stevie Rial