TT 2015 Preview – Part 5 – Sidecar Races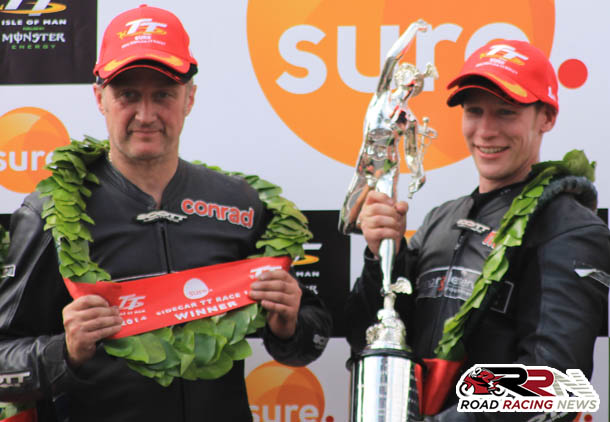 2015 sidecar TT races sees one of the most high quality entry lists in recent years.
Which includes 17 times TT winner Dave Molyneux and Benjamin Binns competing in A&J Groundworks backed DMR Suzuki powered outfit.
Having shown world class form at the Spring Cup National Road Races comfortably winning opening two sidecar races Dave and Benjamin go into TT 2015 extremely confident of securing race victories.
Combined the quality of TT legend Dave Molyneux and rising sidecar road racing star Benjamin Binns make for a hard combination to beat.
2013 sidecar TT race 1 winner Tim Reeves is joined for this year's races by three times TT winning passenger Patrick Farrance.
Tim and Patrick are set to compete in team AOS/EAide motorsport backed outfit. Back in 2008 and 2009 they joined forces achieving series of top quality results which included third place finish in opening sidecar race at TT 2008.
They will start as one of the pre race favourites as the experienced pairing target more success on the most famous road racing circuit in the world.
Birchall brothers Ben and Tom are for the fourth year in a row working with Klaus Klaffenbock as they look to add to their single TT victory to date achieved in second sidecar race at TT 2013.
Regarded by many as one of the leading partnerships in pure road racing TT 2015 marks their sixth year of action on the mountain course.
Manx Gas backed Honda powered outfit is set to provide the Birchall's with a great opportunity to add their already ultra impressive TT record.
TT 2014 was a quite momentous one for Conrad Harrison.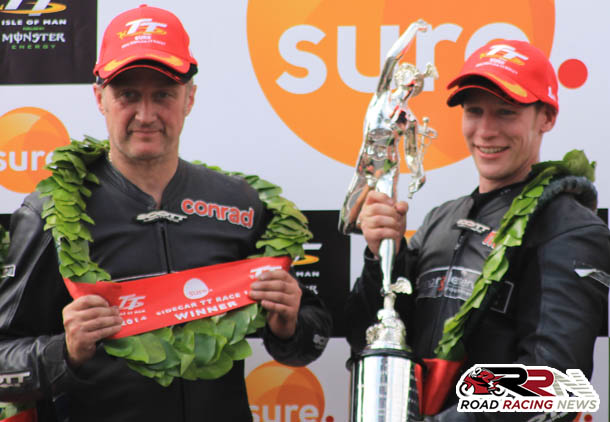 After over twenty years of trying the hugely popular racer clinched his first TT victory in opening sidecar race as he and Mike Aylott produced a performance of the highest quality in the three lap race.
Second place in Sure sidecar race two meant the Conrad and Mike where crowned TT 2014 sidecar championship winners, a quite brilliant achievement.
The Printing Roller Services racing duo are confident of more mountain course success this year but the competition is immense.
Hugely experienced John Holden is joined by most successful sidecar passenger in history at TT Races Dan Sayle in Silicone Engineering Racing outfit.
Combined John and Dan have eight TT victories, the all star team is tipped by many to be a force to be reckoned with.
Its 27 years since John Holden made his Isle of Man TT debut, TT 2015 is all set to be an extremely positive meeting for well respected driver.
Nick Crowe Racing make a welcome return to the sidecar TT Races as they run Sean Hegarty and James Neave.
Reigning British F1 sidecar championship winner Sean Hegarty hasn't competed at the TT since making his debut in 1996.
Despite this he has the pace, speed, pedigree and talent to be in contention for results of the highest quality.
His passenger James Neave last participated at TT races in 2012 when competing alongside TT debutant at the time Scott Lawrie.
Sean and James are 675 Daytona Triumph powered as they bid cause many a surprise or two in both Sure sidecar TT Races.
Gary Bryan and Jamie Winn have in recent years established themselves as consistent front runners.
Although a podium finish has eluded them over the last two years TT 2015 could see the GBM demolition backed duo secure podium finishes.
Bennett Racing's Karl Bennett and Lee Cain are regarded by many as TT winners in the making.
Back to back fifth place finishes at TT 2014 was proof of their undoubted real road racing quality.
It wouldn't be a surprise at all if Karl and Lee step up onto the podium in both sidecar races and same applies with Ian Bell and Carl Bell.
The father and son duo enjoyed a top two weeks competition at TT 2014.
Opening race saw them finish a fine fourth following a highly accomplished performance.
Yamaha powered Ian and Carl are proven winners on the roads, don't discount them from securing top three finishes.
Dean Banks/Ken Edwards, Darren Hope/Paul Bumfrey, Howard Baker/Mike Killingsworth, Mick Donovan/Aaron Galligan, Greg Lambert/Kenny Cole, John Saunders/Robert Lunt all add further quality to the line up.
Wayne Lockey/Mark Sayers showed top class form at the Spring Cup National Road Races, they are anticipated to be in the running for standout race finishes.
Roy Hanks/Kevin Perry, Tony Baker/Fiona Baker Milligan, Mike Cookson/Alun Thomas, Robert Handcock/Aki Alto, Michael Grabmuller/ Manfred Wechselberger, Estelle Leblond/Sebastien Lavorel all the talent to record world class results as does leading TT 2014 newcomers Alan Founds and Tom Peters.
Their sixth place finish in sidecar race 2 raised many an eye brow as they marked themselves out as future TT winners.
For TT 2015 they are all set pilot Team Founds Racing outfit as they aim to continue to ultra rapid progress.
Australia's Dwight Beare, Germany's Mike Roscher and France's Francois Leblond/Anne Garnish all have the credentials to cause many a surprise a two as do the Lowther's John and Jake.
John Lowther and Jake Lowther are amongst the rising stars in sidecar racing between the hedges.
Honda powered John and Jake are like multiple pairing's in contention for high quality results as they aim to impress on the road race circuit where stars, history and remarkable moments always happen.
Leading newcomers are set to include Canada's Chris wells/Jeff Gillard, Pascal Gassmann/Olivier Chadloz, Terry O'Reilly/Aidan Browner and Geir Johnsen from Norway.
With almost seventy entries the line up for 2015 Sure sidecar TT races is of the highest quality.
Multiple outfits are capable of securing race victories whilst the rising stars will be aiming to mix it with the established front runners.