TT 2015 – John Holden/Dan Sayle Set Sidecar Pace
Setting the pace in sidecar practice tonight was John Holden/Dan Sayle.
The duo who have between them nine TT victories produced lap speed of 112.781 mph as they showed impressive speed on Honda powered Silicone Engineering Racing outfit.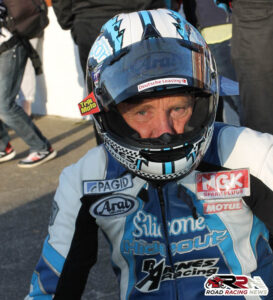 Second fastest was Dave Molyneux/Benjamin Binns who showed top class pace lapping at 110.441 mph in A&J Groundworks backed DMR outfit.
Birchall brothers Ben and Tom showcased their undoubted talent by finishing third fastest following lap speed of 110.186 mph.
Standout sidecar newcomers from TT 2014 Alan Founds/Tom Peters impressed hugely following lap speed of 107.097 mph whilst Karl Bennett/Lee Cain at 104.837 mph where also impressive.
TT legend Roy Hanks/Kevin Perry, Gary Knight/Jason Crowe and Dwight Beare/Noel Beare all showed excellent speed as they all got their timed practice week campaign's off to highly productive starts.
Matt Dix/Shaun Parker 104.573, Tony Baker/Fiona Baker Milligan 103.140, John Lowther/Jake Lowther 102.635 mph all enjoyed a top night of practice.
Multiple duo's are capable of podium finishes in the 2015 sidecar TT races.
Following a high class evening's action where all set for another fantastic sidecar practice session tomorrow as all outfits continue their preparations for opening sidecar race of TT 2015 scheduled to start on Saturday.