Tigcraft Kawasaki On Top In Super Twins Races At 2014 Scarborough Gold Cup
Photo by Road Racing News
Ivan Lintin and the Tigcraft Kawasaki where on top form in both super twins races at the 2014 Scarborough gold cup. Opening super twins race saw the TT 2014 privateers champion set a new lap record for the highly competitive class around the mount with lap time of 1 minute 49.944 seconds.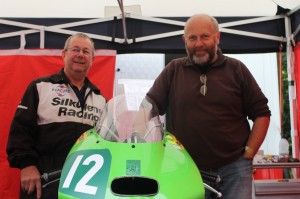 Photo by Road Racing News
At the end of the eight lap race Ivan secured race 1 victory on the Tigcraft Kawasaki which has been developed by Carl Mann. Super twins race 2 began with the two time Ulster Grand Prix winner slotting into third position at Mere Hairpin on opening lap.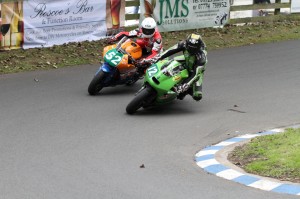 Photo by Road Racing News
From Ivan worked his way through to the front and by lap six had a decent advantage over nearest challengers for victory James Cowton and Jamie Hamilton. By the end of what as a thoroughly entertaining race Ivan had made it a double race win on the Tigcraft Kawasaki.
Super twins races 1 and 2 success at the gold cup was a fine way to end the road racing season for Ivan who in 2014 has been in exhilarating form in super twins races at every road race in which he competes at.