Ten Times TT Winner Ian Lougher Signs Up For Suter's TT 2016 Challenge
Ten times TT winner Ian Lougher has announced a dramatic return to competition at the TT Races, piloting one of Suter's MMX500 machines in the superbike and senior races at TT 2016.
Ian has signed a three year contract with Suter, as he and the Switzerland based engineering/manufacturing firm target many a moment of Mountain Course magic.
In 2013 Ian announced his retirement from action at the Isle of Man TT. Three years on the pure road racing legend, is set to return to the most iconic of all road races.
A proven master of the two stroke, in 1999 he propelled Sabre backed NSR500V Honda to third place finish in the blue riband senior race.
Recent years have seen the Welshman show he's still as competitive as ever, in the popular Classic TT Races.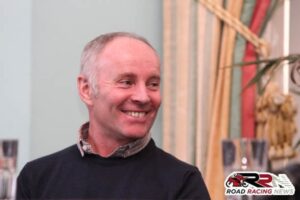 500 and formula 2 victories in 2014, second place finish in last years 500 race, where proof that he's still more than capable of recording many a result of the highest quality around the Mountain Course.
Suter's entry into the superbike and senior races at TT 2016, has captured the imagination of multiple TT fans, marshals, teams and riders.
The MMX500 Suter is set to add a touch of variety to what is already an all star line up for the 2016 superbike and senior TT races.
It's still to be announced as to who will be joining Ian Lougher in the Suter Racing fold, although four times TT winner Michael Rutter is thought to be one of the favorites to join Ian at Suter.
Words by Stevie Rial