Winner of both Junior B races on his Oliver's Mount debut, at last years Cock O'The North Road Races, talented up coming road racer Steven Haddow is the next rider to take on Road Racing News, ten questions challenge.
Planning to make his Manx Grand Prix debut this year, his answers to the popular series of questions, are as follows:
Q1: Favourite National Roads Meeting?
"Having only competed at Oliver's Mount last season, it's gave me a taste of what's to come when I venture over this year to Ireland and the Isle of Man."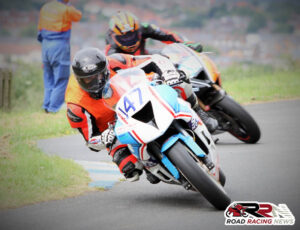 Q2: Favourite Racing Bike?
"My Pre-Injection R6 Yamaha, as I have learnt a lot on that bike and have won a lot on it."

Q3: What's the best part of competing on the roads?
"I enjoy the relaxed atmosphere around the paddocks and I feel more comfortable riding slightly reserved, as a mistake isn't an option."
Q4: TT, North West 200 or Ulster Grand Prix?
"I haven't had the chance to race any of the big ones yet, but hoping to gain an entry for the Ulster GP, Manx GP for this coming season."
Q5: Most Respected Rival?
"Most respected rival I would say is Patrick Forman, we have had some good battles in the Pre-Injection class."
Q6: Best roads moment thus far?
"Winning the Junior 600 B races at Oliver's Mount at the Cock O'The North Road Races, my first time at Scarborough was good having never been there before and was also competing on a new bike."
Q7: Is their one place or country in the world, where you would like to see a roads meeting held?
"West coast of Scotland, as it was where I learnt to ride. Some spectacular roads that could be put to good use."
Q8: Who's your road racing hero?
"Racing hero is John McGuinness."
Q9: Supersport or Superbike?
"Supersport as it suits my style of riding."
Q10: Pole position or fastest lap?
"Fastest lap all day."
Words by Stevie Rial