North West 200 and Ulster Grand Prix bound for the first time this year, Oliver's Mount stalwart Stephen Degnan is the next racer to take part in Road Racing News, ten questions challenge.
Stephen's answers to the popular series of questions, are as follows:
Q1: Favourite National Roads Meeting?
"My favourite National roads meeting is the Cookstown 100, because its the very first Irish road race that I raced at and also its usually the first Irish meeting of the year, which to me marks the start of the fun in Ireland."
Q2: Favourite Racing Bike?
"Favourite race bike has got to be the Suzuki GSXR 1000 K5."

Q3: What's the best part of competing on the roads?
"The best part of competing on the roads is that its the same for everyone. The roads have just closed for that weekend or week, so it's a level playing field unlike the circuits where some riders do hundreds and hundreds of laps practice before a race meeting."
Q4: TT, North West 200 or Ulster Grand Prix?
"Well I'm racing the North West 200 and Ulster GP as a newcomer this year, so they both feel very special to me at the moment."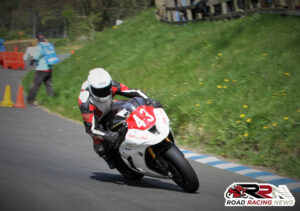 Q5: Most Respected Rival?
"Every single rider out on track with me. They are all good. As I always say there are no muppets racing on the roads and nobody gives you top finishes for nothing."

Q6: Best roads moment thus far?
"My best roads moment thus far has got to be finishing 5th, in the 2016 Bob Smith Spring Cup Final race at Oliver's Mount Scarborough."

Q7: Is their one place or country in the world, where you would like to see a roads meeting held?
"I would love to see some road racing as close to my home town of Darlington as possible, so I could sleep in my own bed at night and not in the back of my van!. No seriously anywhere in the North East of England would be fantastic."
Q8: Who's your road racing hero?
"My Road Racing hero is easy there is no question about it Michael Dunlop. Most exciting rider you will ever see."
Q9: Supersport or Superbike?
"It's got to be the Superbike. They are just animals that you never ever get used to or bored of riding. They always have a surprise for you."
Q10: Pole position or fastest lap?
"Fastest lap. Pole positions and front row starts never go well for me, and if your putting in the fastest laps you wont be too far away come the end of the race."
Words by Stevie Rial