Successful 2014 Road Racing Season For Rad Hughes
Its been a successful year of road racing for Rad Hughes who has secured along the way highly creditable results around Oliver's Mount, Southern 100 and Manx Grand Prix.
Photo by Road Racing News
Top ten finishes in both super twins races at the Ian Watson spring cup road races where a good way to start the season for Rad who is getting better and better in road racing becoming an established competitor between the hedges.
Photo by Road Racing News
Second meet of the season around the mount the Barry Sheene road race festival saw the popular rider clinch highly creditable sixth and seventh place finishes in the two super twins races.
Opening modern senior race provided him with respectable 12th place finish whilst second modern senior race would see excellent eighth position secured plus Rad was leading super twin mounted rider competing on a ER6 Kawasaki.
Southern 100 was next up and following productive practice week 12th position was secured in opening super twins race which was then followed by 11th place finish in second race following a tenacious and battling performance.
Supersport B race proved to be one of the most competitive races at this years Southern 100 and Rad ZX6 Kawasaki mounted was fighting throughout for top three placing as he recorded fantastic fourth place finish.
Photo by Road Racing News
Back at Oliver's Mount for the cock of the north road races Rad acquired back to back seventh place finishes in opening super twins races before recording two third place finishes in senior B races both times finishing leading 650 mounted rider.
The highlight of the season in 2014 for Rad was competing for the third time around the mountain course at the 2014 Manx Grand Prix.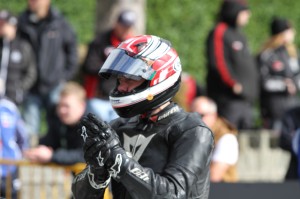 Photo by Road Racing News
Junior race would see him achieve highly respectable 23rd place finish following a solid and consistent ride on his own teams ZX6 Kawasaki. Super twins race run on the same day saw him record excellent top ten finish plus Rad along with James Neesom race winner and Ben Rea fifth place finisher won the team award for the race going under the name team auto 66 club.
Photo by Road Racing News
Senior Manx Grand Prix was next on the horizon and the enthusiastic road racer ended his season in style with another 23rd place finish, in all he had enjoyed a highly productive week of racing on the most famous road racing circuit in the world.
Going into 2015 Rad is aiming to compete for the first time at the worlds greatest road race the Isle of Man TT and there's no doubt he has the ambition, talent and ability to secure standout results.