Although the entry for the Sidecar races at the Spring Cup National Road Races may be small, it's a high quality one, consisting of rising stars and TT winners.
Dave Molyneux/Dan Sayle's new retro Yellow and Black liveried Yamaha powered outfit, will attract a lot of attention, not only at Scarborough but also from the wider roads circle, to see the potential of the steed ahead of TT 2017.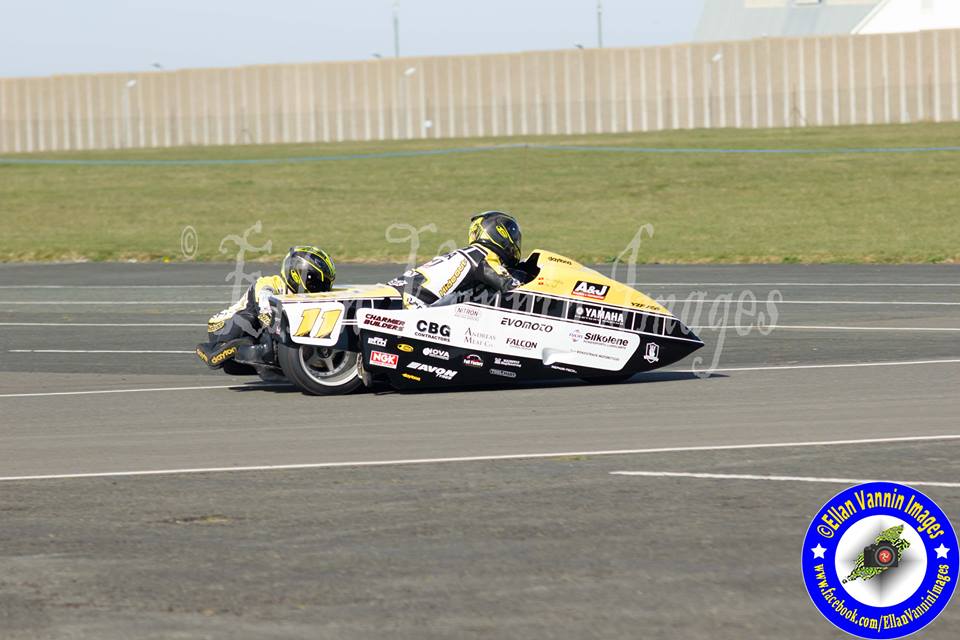 Photo by Jim Gibson
The all star Manx duo will prove extremely hard to beat, teams though such as the Ramsden's Steve and Matty are more than capable of pushing their illustrious counterparts.
The father and son duo was amongst the most rapidly improved teams on the roads in 2016, scoring not only first class results at the mount, but also at the Southern 100 and TT Races.
Oliver's Mount favourite Conrad Harrison has a new team member this year in the Printing Roller Services outfit, as twice TT winner Andy Winkle links up with the Bradford based driver.
Don't be surprised to see the roads veterans, enjoy a race win or two this weekend.
Additional outfits to keep an eye on this weekend include Lee Crawford's Team A.R.C steed, plus Suzuki powered Dean Lindley/Robert Bell.
Rounding out the entry is Scarborough specialist Dave Wallis who is joined in his LCR machine by Scott Hardie, seasoned Mountain Course competitor Kevin Thornton/Dave Dean and Paul Riley, with a still to be announced passenger.
Sidecars have been a favourite of Oliver's Mount fans for multiple years, and expect a fans a plenty to witness close fought, ultra competitive three wheel encounters on Saturday and Sunday, at Scarborough.
Words by Stevie Rial