One of a select few racers to have been a Sidecar passenger and driver at the TT Races, Irlam's Peter Alton who's TT CV includes two top ten finishes is the next three wheeling competitor to take part in Road Racing News, Sidecar equivalent of the popular ten questions challenge.
Seventh alongside Roger Stockton within the second Sidecar encounter of TT 2006, his answers to the series of questions are as follows:
Q1: Favourite Roads Meet?
"TT"
Q2: Favourite Racing Engine?
"Yamaha R6"
Q3: Best roads moment thus far?
"Dicing for position on the Southern 100 course with Roy Hanks."
Q4: Out of the current roads meets, is their one event in particular where you would like to see sidecars compete?
"Irish roads, possibly North West 200."
Q5: Most respected fellow driver?
"Roy Hanks"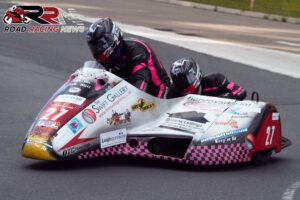 Q6: Three Wheeling Hero?
"Nick Crowe"
Q7: What's the best part about competing on the roads?
"Knowing if you get it wrong it's going to hurt!"
Q8: Three words to describe sidecar racing?
"Exhilarating, Rush, Humbling."
Q9: In your opinion, who is the greatest Sidecar TT racer of all time?
"Without a doubt David Molyneux!"
Q10: Pole position or fastest lap?
"Fastest lap"
Words by Stevie Rial