Close fought action is anticipated in supersport races, at the 2015 Scarborough gold cup.
Winner of both supersport races during the Ulster Grand Prix, Lee Johnston starts as one of the firm favourites for victories on East Coast Racing 675 Daytona Triumph.
Lee has established himself this season, as one of the world's best pure road racers, he's won more international road races in 2015 than any other rider, following three wins at Ulster Grand Prix and superstock success at North West 200.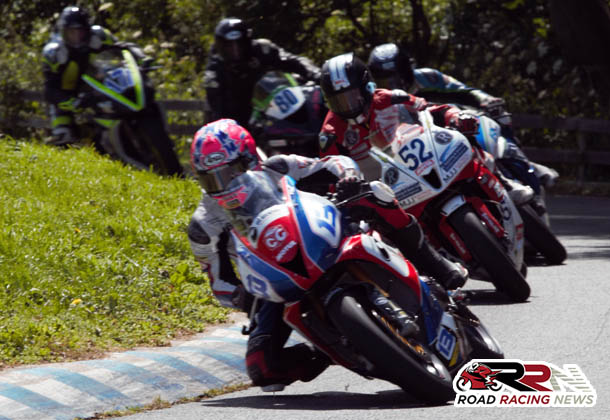 The supersport lap record around Oliver's Mount is tipped for back to back wins in 600 class, as is Mar Train Racing's Dean Harrison.
Dean has shown this season, strong form in the hugely competitive class.
Piloting Mar Train Racing YZF R6 Yamaha, it wouldn't be a surprise to anyone if the 2014 lightweight TT winner, dominates supersport races.
RC Express Racing's Ivan Lintin, is set to lead the Kawasaki challenge. Ivan has enjoyed a stellar season, sealing his first TT victory in lightweight race, plus multiple victories at Oliver's Mount, in opening three meetings.
The reigning gold cup champion has the proven quality, ability, talent to record back to back race wins, same applies to Irish road race supersport champion William Dunlop.
Competing on Ivan Curran/CD Racing YZF R6 Yamaha which has propelled him to 11 victories this season, William is looking forward to returning to Oliver's Mount, for the first time since the 2013 gold cup.
Regarded by many as leading supersport competitor on the roads, William is in excellent form going into the prestigious gold cup meeting.
Valvoline Racing by Padgetts Motorcycles Bruce Anstey, adds a touch of world class quality to the entry list.
Second place finisher in both of this year's supersport TT races, is a true pure road racing legend, who currently has 31 international road race victories.
You can't discount a rider of Bruce's quality from been at the sharp end, whilst rising stars Daley Mathison, Jamie Coward, Dan Hegarty, Mark Goodings will be aiming to upset the form book.
As will reigning Duke Road Race Rankings champion James Cowton. Piloting his own teams CBR 600 Honda, James has the knowledge, pace and ability to be in the mix in both 600 races.
Junior Manx Grand Prix winner Billy Redmayne, is amongst the most improved riders on the roads in 2015.
Having recently lapped on the mountain course at 121.523 mph, Billy goes into this weekend's racing in good form.
He's more than capable of finalising top class results, as is Tom Weeden on his own teams 675 Daytona Triumph.
Further quality to the entry is added by Darren Cooper, Rhys Hardisty, Jay Bellers Smith, Rodger Wibberley, Chris Cook, Mick Goodings, Davy Morgan, Matthew Rees and Callum Ward.
Newcomers competing include Dan Cooper, TT 2015 privateers championship winner.
Dan has enjoyed an excellent season of pure road racing, clinching Welsh open victory for the second time at Aberdare Park, alongside recording third place finish in super twins race at Ulster Grand Prix.
Supersport races always provide us with close, exciting, thrilling and hard fought races.
On Saturday and Sunday, it's set to be no different as TT winners, established stars, rising stars, up and coming riders all do battle for wins around Oliver's Mount.