Further enhancing his already ultra impressive event CV, Jamie Coward alongside claiming Senior 500 race spoils, clinched overall today at Billown no less than three race victories.
Victorious in a keenly contested throughout Junior 350 race, this afternoon's Post Classic Superbike encounter saw PreZ Racing's Coward in dominant form.
Securing race spoils by plus 24 seconds, the in form Yorkshireman on route to a third victory at this years Blackford Financial Services Pre TT Classic Road Races, set a scintillating new class lap record, lapping at 2 minutes 23.998 seconds, which equates in speed terms to an average speed of 106.251 mph.
Joining Coward on the Post Classic Superbike rostrum was Adrian Kershaw and ultra impressive Billown course newcomer, Mistral Racing supported Paul Jordan.
Jeff Ward proved the dominant force within the yesteryear Lightweight 250 class, whilst 850cc honours went the way of new Junior 350 category lap record holder Alan Oversby, who crossed the finish line under 0.2 of a second clear of Pre TT Classic legend Mike Hose.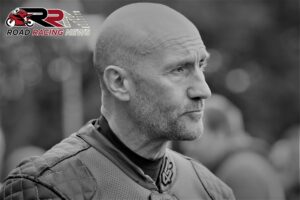 Davies Motorsport's Oversby also proved formidable in the Singles race, claiming 350 class honours, alongside acquiring overall honours.
Reflecting on today's sole three wheeling action, the second four lap Sidecar encounter saw Rod Bellas/Danny Quirk make it back to back victories, securing the race win by a major margin of 26.395 seconds.
Keith Shannon took the 250 Singles class crown, whilst racers presently not mentioned to have secured rostrum finishes from a top class day's racing down at Billown are as follows:
Brian Mateer (2nd-250 Lightweight), Bill Swallow (2nd-Junior 350), Dominic Herbertson (3rd-850cc race), Will Loder (2nd-350 Singles), Meredydd Owen (3rd-350 Singles).
Adam Ward (2nd-250 Singles), Geoff Bates (3rd-250 Singles), Tony Thirkell/Trevor Johnson (2nd-Sidecar Race 2), Patrick Geffray/Andrew Haynes (3rd-Sidecar Race 2).
Overall results from each of today's races at the Blackford Financial Services Pre TT Classic Road Races, are as follows:
250 Lightweight:
1 Jeff Ward
2 Brian Mateer
3 Mike Hose
4 Keith Shannon
5 Barry Davidson
6 Geoff Bates
7 Adrian Skaife
8 Adam Ward
9 Richard Bool
10 Mike Barry
11 Bob Dowty
Junior 350:
1 Jamie Coward
2 Bill Swallow
3 Mike Hose
4 Steven Elliott
5 Ed Manly
6 Julian Tillotson
7 Will Loder
8 Terence Sansom
9 Keith Shannon
10 Bob Owen
11 Meredydd Owen
12 Anthony Ambler
13 Richard Ford
14 Christopher Morgan
15 David Glover
16 Ian Thompson
17 Mark Purslow
18 Andy Kildea
19 Vic Haskell
850cc:
1 Alan Oversby
2 Mike Hose
3 Dominic Herbertson
4 Dean Stimpson
5 Chris McGahan
6 Ben Rea
7 Richard Ford
8 Meredydd Owen
9 Will Loder
10 Bob Owen
11 Dave Matravers
12 Steven Elliott
13 Jack Hunter
14 Terence Sansom
15 Keith Dixon
16 Neil Lloyd
17 Anthony Ambler
18 Richard Stott
19 Arthur Browning
350 Singles:
1 Alan Oversby
2 Will Loder
3 Meredydd Owen
4 Bob Owen
5 Hefyn Owen
6 Dave Matravers
7 Vic Haskell
8 Brian Nichol
9 John Cliffe
10 Colin Purslow
11 Tilmann Runck
12 Edward Poole
250 Singles:
1 Keith Shannon
2 Adam Ward
3 Geoff Bates
4 Adrian Skaife
5 Michael Titchmarch
6 Richard Bool
7 Mike Barry
8 Nick Penny
Post Classic Superbike:
1 Jamie Coward
2 Adrian Kershaw
3 Paul Jordan
4 Allan Brodie
5 Ben Rea
6 Andy Farrell
7 Dennis Booth
8 Andy Sailor
9 Mark Herbertson
10 Alec Whitwell
11 Gavin Brown
12 Iain Robertson
13 Rhys Hardisty
14 Brian Clarke
15 Rodolphe Gouge
16 Andrew Cowie J.P
17 Peter Creer
Sidecar Race 2:
1 Rod Bellas/Danny Quirk
2 Tony Thirkell/Trevor Johnson
3 Patrick Geffray/Andrew Haynes
4 Andy Nourish/Nicolia Klinker
5 Wally Saunders/Bob Dowty
6 Simon Christie/Glenn Dawson
7 Adam Pope/John Christopher
Words by Stevie Rial