Oliver's Mount Top 8: Ian Lougher
Ten times a TT winner, 18 times an Ulster Grand Prix winner, 2002 Steve Henshaw International Gold Cup winner, the most winning rider in history at Scarborough, the legend that is Ian Lougher is the next racer to take part in Road Racing News growing in popularity, Oliver's Mount Top 8 series.
Over 120 times a race victor at North Yorkshire's 'Mini TT', his answers to the Scarborough themed series of questions are as follows:
Q1: First memory of Oliver's Mount?
"I think that would be driving from Wales when I lived there, before I moved to Northern Ireland, driving and getting there at 3 o'clock in the morning after working and then parking on the only place left in the paddock.
Which is were you actually walk up onto the grid these days and it's on an angle, felt like a mountain goat after the first weekend racing there, but it was a good memory."
Q2: Favourite part about racing at the mount?
"We always park, get there early and leave late, so we always enjoy walking down from the circuit down to the sea front and spending a bit of time there, Scarborough's a nice place."
Q3: Favourite section of Scarborough course?
"I think it would have to be down to the last hairpin and then over the jumps. The acceleration out of the jumps, the bike is sort of on it's side, you don't think it is when your on the bike as such but it's sort of on it on the right hand side and the front wheel's coming off the ground and then you hit the big jump, yeah it's the best part."
Q4: Best moment thus far at Scarborough?
"I think 2009 I think it was, I won the 600 race, everybody was there, I had a really bad year on the 600 it was blowing up all the time and things but then we all of a sudden got it sorted, the Yamaha R6.
McGuinness (John), Hutchy (Ian Hutchinson), Michael Dunlop, William Dunlop everybody was there and I won the race by six and a half seconds from Hutchy and got the lap record and that was really satisfying, I rode it like I stole it that day."
Q5: All time Scarborough racing hero?
"Dean Ashton was very good round there, he was very good on the Ducati at that time. There's been some really good riders, obviously David Jefferies and Steve Hislop won his first national race ever at Scarborough in 86.
Steve Hislop was a bit of an old friend, grew up through the racing together, one of my heroes."
Q6: Is there one machine in particular that you would like to race at Scarborough?
"I raced an NSR 500 Honda, which I enjoyed riding at the time but it only did the practice and unfortunately somebody forgot to tighten the water hose up on it and all the water came out and seized both cylinders, that was in practice so I never actually got to race it.
But yeah I'd probably like to go back out on one of those."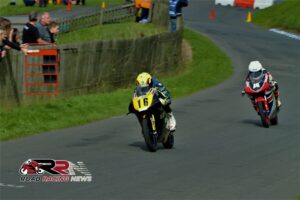 Q7: One word to describe Oliver's Mount?
"Narrow and intense."
Q8: Most respected racing rival at Scarborough?
"I think for me probably Chris Palmer, cause we had so many good races together, we were so close, he would be it."
Words by Stevie Rial