NK motors racing and Tuukka Korhonen are aiming for top results in 2015. The team at TT 2014 enjoyed a superb result in lightweight TT with Tuukka as the seasoned road racer clinched highly creditable 16th place finish.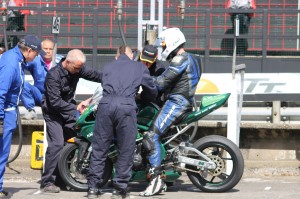 Photo by Road Racing News
Supersport races would see Tuukka CBR 600 Honda mounted as he went onto secure respectable 60th and 51st place finishes in Monster Energy supersport TT races.
The rider who finished in 11th position in super twins Manx Grand Prix back in 2013 made his mountain course debut in 2011 securing 20th place finish in newcomers a Manx Grand Prix. Since then he has got better and better around the most famous road racing circuit in the world.
Photo by Road Racing News
Alongside his top performances on the mountain course Tuukka has been a regular competitor in the international road racing championship were this year he secured joint 26th position overall in IRRC supersport championship.
The Winner of the Seymour trophy award at the 2013 Manx Grand Prix and NK motors racing are aiming to compete in 2015 at Isle of Man TT, North West 200 and Ulster Grand Prix.
Both team and rider are on the lookout for sponsorship for 2015 road racing season which is set to be a highly enterprising years racing for the ambitious team and for a rider who loves competing in pure road racing.