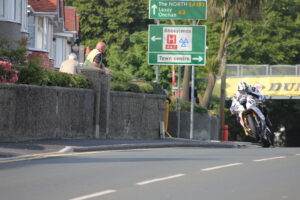 Photo by Road Racing News
Michael Dunlop set quickest lap of practice week so far during Friday's practice session at TT 2014. Michael competing on the factory backed S1000RR BMW superbike lapped at 131.500 which is unofficially his quickest lap around the mountain course.
Bruce Anstey was second fastest lapping at 130.642 on Valvoline racing by Padgetts motorcycles Honda superbike, Guy Martin also lapped in the 130 mph bracket to finish third fastest whilst John McGuinness set his quickest lap of TT 2014 so far with lap speed of 129.790 mph.
Dan Kneen produced an excellent performance to lap at over 129 mph on Cookstown/Burrows engineering GSX-R 1000 Suzuki. Michael Rutter showed good form on Bathams BMW superbike lapping at over 128.8 mph whilst Josh Brookes nearly produced a lap speed of 128 mph.
Peter Hickman was quickest newcomer lapping at over 123.3 mph on Ice Valley racing by Motorsave ltd S1000RR BMW. Martin Jessopp produced his quickest lap speed of TT 2014 with a lap speed of over 119 mph. Superbike TT race is tomorrow and with the right conditions we could well see a new outright Isle of Man TT lap record.