Sebastien Le Grelle produced a dominant performance, to seal IRRC Superbike race 1 honours, at Hengelo.
Finishing 9.354 seconds clear of nearest challenger, Didier Grams, the Herpigny Motors BMW Motorrad Belux rider, showcased the type of form that made him series champion in 2015.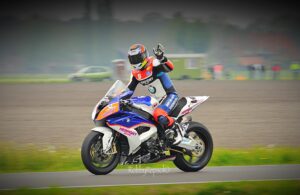 Photo by Robby Repsol
Outside of the former IRRC Superbike champions, it was Performance Racing Achterhoek's Jochem Van Den Hoek who sealed the final spot on the podium, holding off reigning Supersport champion, Marek Cerveny.
GSX-R 1000 Suzuki mounted Marc Fissette finished fifth, Johan Fredriks was sixth, whilst Denny Lanoo and Martin Partelpoeg both showed good form in finishing seventh and eighth.
The top ten was completed by 2012 Newcomers A Manx GP winner, Kamil Holan and Petr Biciste.
Finland's Juha Kallio was a very creditable 11th, fellow IRRC debutant Nadieh Schoots completed the six lap race, in 22nd.
IRRC Hengelo – Superbike Race 1 Results:
1 Sebastien Le Grelle
2 Didier Grams
3 Jochem Van Den Hoek
4 Marek Cerveny
5 Marc Fissette
6 Johan Fredriks
7 Denny Lanoo
8 Martin Partelpoeg
9 Kamil Holan
10 Petr Biciste
11 Juha Kallio
12 Lukas Maurer
13 Pavel Tomecek
14 Ales Nechvatal
15 Timo Schonhals
16 David Datzer
17 John Pilloud
18 Marcel Zuurbier
19 Nico Muller
20 Ludovic Paureau
21 Jean Pierre Polet
22 Nadieh Schoots
23 Fabrizio Lannutti
24 Dirk Kaletsch
25 Josef Luksik
26 Foti Psomadakis
27 Yannik Jacops
28 Rob Van Eijs
29 Marko Klein
Words by Stevie Rial