FonaCAB International North West 200 In Association With Nicholl Oils: Preview – Part 2 – Super Twin Races
Since been incorporated into the race schedule in 2012, the Super Twins class at the North West 200 has largely been dominated by top level independent teams, running 650 Kawasaki machinery, which includes of course class specialists KMR Kawasaki.
Their latest upcoming NW200 quest sees them join forces again with former 250 Grand Prix winner, Jeremy McWilliams.
Although now considered a veteran at 55 years of age, the ex 250 GP race winner has lost none of his desire to add more rostrums to his North West CV, which includes two race wins and in total seven podium finishes.
Joining McWilliams to form a six man team next week for Ryan Farquhar's KMR outfit, are Matt Rees, Ryan Gibson, Canada's Darren James, Triangle course legend Michael Rutter and Irish road race Super Twins champion Derek McGee.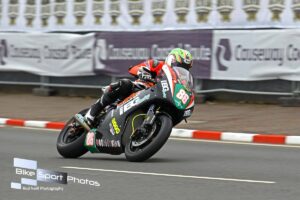 Photo by Rod Neill
Mullingar's McGee, Super Twins victor at Cookstown and Tandragee, in my opinion vastly underrated, has the undoubted raw talent, speed, grit, determination and confidence in his Kawasaki steed to be a prime contender for class honours.
Unquestionably one of the main highlights for fans this May, when it comes to the Super Twins class, will be watching up close John McGuinness aboard Norton's striking new Lightweight model.
Never to be underestimated, six times NW200 winner McGuinness whilst perhaps not considered by some a race winning contender, cannot be discounted from banking at minimum podium finishes.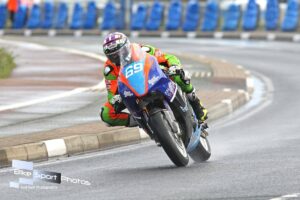 Photo by Rod Neill
NW200 Superbike king Glenn Irwin (KTS Racing) is another to underestimate at your peril, and will no question play a significant role in the battle for Super Twins class spoils.
Additional high profile entrants include twice TT Privateers Championship runner up Jamie Coward, and the ILR (Ian Lougher Racing)/Mark Coverdale sponsored trio of Horst Saiger and event newcomers James Chawke and Carl Phillips.
Photo by Nick Wheeler
Others capable of chalking up impressive results include Michael Sweeney, Spain's Victor Lopez Santos, Maria Costello MBE, Optimark Road Racing's Xavier Denis/Pierre Yves Bian, Preston's Darren Cooper, Joe Loughlin, Daley Mathison, Kris Duncan and 2018 Newcomers B Manx GP winner Michael Rees.
Keep an eye as well on Italian star Stefano Bonetti (VAS Engine Racing Paton), who has impressed many in recent years with his pace aboard Twin machinery at the TT Races.
Sole Suzuki mounted racers entered are meeting stalwarts from Scotland Bruce Birnie and Sandy Berwick, plus William Hara and Mark Shields.
Notable non entrants include Barry Furber and Dan Cooper, both focusing on TT 2019, plus Peter Hickman and Davey Todd, with Norton electing to run just one Superlight steed on the coast roads.
Photo by Tommy Vennard
Whilst the class entry, maybe smaller in comparison to the four stroke classes, it doesn't make it any less likely that this years NW200 Super Twin races will be thrilling, pulsating, drama filled and most of all ultra competitive.
Words by Stevie Rial