Scintillating action, fantastic weather, an extremely appreciative crowd combined with a top draw atmosphere made today's race day at Faugheen, unquestionably one to remember.
Form horse Derek McGee who banked a quite stellar five wins from five starts, tumultuous race day also yielded a new outright 125/Moto 3 lap record, on route to class honours aboard the Joeys Bar MCC Honda.
It was also great to see fourth place finisher Joeys Bar MCC Racing Team Manager Gary Dunlop, back in competitive action with the famous number three plate.
Reflecting on the Super Twins race, there was again no stopping Mullingar's McGee. Looking at one with his KMR Kawasaki steed, he clinched race victory by over 15 seconds over nearest challenger Cookstown BE Racing's Davey Todd.
Supersport wise, whilst another win went the way of McGee, praise a plenty must be yielded upon Paul Jordan who finished just over 1.4 seconds behind the B&W Racing Kawasaki mounted racer, after a high quality six lap battle.
Ballymoney's Darryl Tweed took the Lightweight 400 class spoils by plus five seconds over Stephen Tobin, whilst fellow rising star Michael Browne, Senior Support championship success to his non championship wins from last evening.
Junior Support class wise, Liam Chawke held off the attentions of yesterday's non championship victor Barry Sheehan by just over half a second to take race honours.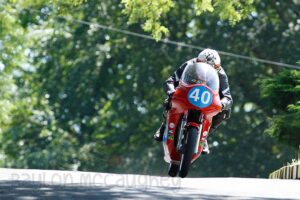 Photo by Baylon McCaughey
Three times Manx GP victor Barry Davidson added another two victories to his hugely impressive Irish roads CV, sealing in fine style Junior 350, Senior 500 triumphs. Fellow yesteryear machinery specialists Brian Mateer and Richard Ford shared respectively the Junior 250, Senior 1000 race spoils.
Overall an excellent race day at Faugheen, which although an extremely warm and humid one for the racers, showcased all that's great about Irish Road Racing.
Results per class from the 2018 Faugheen 50 Road Races, are as follows:
Senior Support:
1 Michael Browne
2 Wayne Sheehan
3 Liam Chawke
4 Kevin Baker
5 Matt Donaldson
6 Tommy Heaphy
7 Jordan McFerran
8 Barry Sheehan
9 Darragh Burke
10 Stuart McCann
11 Michael Hoey
12 Martin Currams
13 John Cahill
14 Mike Gibson
15 Alan Fisher
125/Moto 3:
1 Derek McGee
2 Kevin Fitzpatrick
3 Melissa Kennedy
4 Gary Dunlop
5 Nigel Moore
6 Sean Leonard
Lightweight 400:
1 Darryl Tweed
2 Stephen Tobin
3 Stephen Morrison
4 John Ella
5 Michael Hoey
6 Brian Loughlin
7 Gerard Cummins
Junior 250 Classics:
1 Brian Mateer
2 Philip Shaw
3 Alexander McVicker
4 Trevor Stewart
Junior 350 Classics:
1 Barry Davidson
2 Ed Manly
3 Sean Leonard
4 Ken Parkes
5 Sam Kinkead
6 Freddie Stewart
7 Gearoid Hoare
8 Andy Kildea
9 Michael Brady
10 Paul McMahon
11 Tim Stephenson
12 Kevin Callan
13 Herbie Ronan
Supersport:
1 Derek McGee
2 Paul Jordan
3 Michael Sweeney
4 Davey Todd
5 Michael Browne
6 Brian McCormack
7 Kevin Fitzpatrick
8 Darryl Tweed
9 Damian Horan
10 Forest Dunn
11 David Murphy
12 Paul Fallon
13 Noel Carroll
Junior Support:
1 Liam Chawke
2 Barry Sheehan
3 Stephen Morrison
4 Brian Loughlin
5 Mike Gibbons
6 Martin Currams
7 Ben Mullane
8 Michael Hoey
9 James Cottrell
10 Darren O'Rourke
11 Brendan Flynn
12 John Cahill
13 Gearoid Hoare
14 Alan Smyth
Super Twins:
1 Derek McGee
2 Davey Todd
3 Thomas Maxwell
4 Michael Browne
5 Barry Sheehan
6 Brian Loughlin
7 Mike Gibbons
8 Ben Mullane
9 John Ella
Senior 1000 Classics:
1 Richard Ford
2 Philip Shaw
Senior 500 Classics:
1 Barry Davidson
2 John Leigh Pemberton
3 Freddie Stewart
4 Sean Leonard
5 William Lyle
6 David Carleton
7 Herbie Ronan
8 Andy Kildea
9 Ed Manly
10 Roger Chen
11 Paul McMahon
Words by Stevie Rial