It's been an excellent 2015 international road racing championship supersport campaign for Laurent Hoffmann.
2013 IRRC supersport champion's season began with series of solid results at Hengelo, as ZX6R Kawasaki mounted Laurent clinched fifth and fourth place finishes.
This was backed up by top five finish in second supersport encounter, at Oss, which marked second round of the season in the Netherlands.
From here attentions turned to Oostende where Laurent went onto seal a superb race victory, as he proved once again why he is amongst Belgium's leading pure road racers.
Photo by Stephen Bower
His excellent form continued at Chimay, sealing another win, having held off challenges from Kevin De Frenne and Joey Den Besten.
Final round at Frohburg saw Laurent end his season in top style, with series of top three finishes to clinch overall third in the IRRC supersport championship.
It's been a comeback year for Laurent, having recovered from injuries sustained in practice week at TT 2014, which marked his debut on the world famous mountain course.
He's aiming in the future to return to the most famous road racing circuit in the world.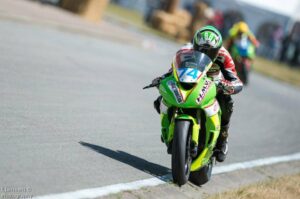 Photo by L Janssens Photography
Regarded amongst continental Europe's leading riders on the roads, Belgium supersport champion Laurent Hoffmann has the potential in the future to record top quality results not only around the mountain course.
But also at the North West 200 around the Triangle, and on the fastest road racing circuit in the world Dundrod, at the Ulster Grand Prix.