Dan Kneen Up To Another Level In 2014
Dan Kneen has moved up a level in 2014. The 2008 junior Manx Grand Prix winner for this years road racing season joined John Burrows Cookstown Burrows Engineering racing team and the combination immediately got off to a dream start at the Cookstown 100.
Photo by Rod Neill
Grand final victory following a scintillating performance provided Dan with his first major win since the 2008 lightweight Manx Grand Prix. Open and grand final race victories followed at the Tandragee 100, after a consistent North West 200 attentions turned to the Isle of Man TT.
Photo by Rod Neill
A series of highly creditable results would see the Cookstown Burrows Engineering racing rider produce some of his best form to date on the mountain course which included seventh place finish in superstock TT and eighth position achieved in senior TT.
Photo by Road Racing News
Plus Dan lapped in the 129.3 mph bracket which proved that at TT 2014 he had enjoyed one of his best TT's during his career competing at the worlds most famous road race.
Dan's lead in the 2014 Irish road race superbike championship grew at the Kells road races where despite been a debutant to Kells just like at Tandragee the talented road racer produced two sterling all round performances in clinching open and grand final race victories.
Skerries road races would see another grand final win secured after a great battle with Jamie Hamilton, Southern 100 was next on the cards and the fifth place finisher in last years opening 600/1000 race was confident of securing top results at the friendly races.
Senior race would see second position recorded as Dan produced a great all round display on Cookstown Burrows Engineering GSX-R 1000 Suzuki, plus Dan had claimed a notable in scalp in beating 11 times TT winner Michael Dunlop to second position.
Back to back third place finishes where acquired in supersport races whilst the blue riband Southern 100 solo championship saw third place finish secured having battled his way back up to third position having made a slight mistake on lap 2 which dropped him back down the pack.
Photo by Louis Porter
In all the 2014 Southern 100 was an undoubted success for Dan as went into the up coming Walderstown road races with growing confidence. Once again as seen at Cookstown, Tandragee, Kells and Skerries Dan chalked up grand final win number five of the season at Walderstown as he powered his way to victory.
Hat trick of wins at the Faugheen 50 road races kept the growing momentum going for the rider who at Faugheen had secured 2014 Irish road race superbike championship victory.
Photo by Road Racing News
The worlds fastest road race the Ulster Grand Prix would have its ups and downs for Dan. The main highlight was his first international road race win in a thrilling superstock race.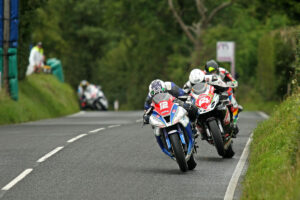 Photo by Rod Neill
Dan edged out Dean Harrison by 0.001 of a second in one of the closest finishes seen in history at the Ulster Grand Prix. Unfortunately in the opening supersport race the rider having his best season of road racing to date was involved in a three rider incident, from the incident Dan suffered a broken foot which consequently ruled him out of action for the rest of the season.
Photo by Rod Neill
Despite the disappointment of not been able to compete at classic TT races, Killalane road races, Scarborough gold cup and Macau Grand Prix its still been a tremendous year of road racing for Dan who has without moved up a level this year.
Photo by Road Racing News
He's now 100 percent considered amongst the best road racers in the world, his goal of securing his first TT win can't be far away in the future whilst for 2015 Dan is still not 100 percent sure as to who he will be competing for although he is linked to remaining with the Cookstown Burrows Engineering racing team.