Classic TT Races – Established Stars Show Strong Pace In Monday Night's Practice Session
Multiple established stars around the mountain course showed strong pace in Monday night's Classic TT Races practice session.
Formula 1 Practice
Three times TT winner Ryan Farquhar set the pace in formula 1 practice, following impressive lap speed of 117.699 mph on Team Winfield 1100 Harris Yamaha.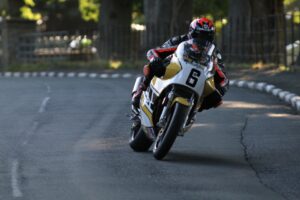 Photo by Louis Porter
Finishing second fastest was David Johnson who has impressed many people this year, having shown world class form at TT 2015, North West 200 and Ulster Grand Prix.
Piloting Team York Suzuki Davo recorded lap speed of 116.838 mph. Michael Dunlop 116.106 mph finished third quickest whilst Russ Mountford showed top class form finishing fourth fastest, lapping at 114.827 mph.
1100 Harris Yamaha mounted Gary Johnson was fifth quickest as Mistral Racing's Jamie Coward finalised the top six.
Formula 2 Practice
Reigning Duke Road Race Rankings champion James Cowton topped the time sheets in formula 2 practice on Peter Berwick backed TZ250 Yamaha, having lapped at 102.656 mph.
Dave Hewson 99.354 mph was second quickest, Phil Harvey also broke the 99 mph barrier with lap speed of 99.077 mph, in finishing third quickest.
Tom Snow, Derek Glass and Philip McGurk completed the top six.
500 Practice
Leading the way in one lap 500 practice session was ten times TT winner Ian Lougher. Reigning 500 classic TT winner lapped 104.199 mph on Flitwick Motorcycles backed Paton.
John McGuinness made it a Paton one two in practice following lap speed of 102.677 mph.
Michael Dunlop lead the non Paton charge, securing quality lap speed of 101.064 mph on team Molnar Manx Norton.
Jamie Coward showed highly accomplished form in finishing fourth fastest whilst Royal Enfield mounted Olie Linsdell, finished a more than creditable fifth quickest.
Davies Motorsport's Alan Oversby rounded out the leading six runners in practice.
350 Practice
Four times TT winner, Michael Rutter was on top in 350 practice, showing world class pace lapping at 97.968 mph.
Bill Swallow finished second quickest, Dean Harrison was third fastest as he enjoyed a productive evening's action on Black Eagle Racing MV Agusta.
Stephen Harper, Nigel Moore and Tom Jackson all showed good form in finishing fourth, fifth, sixth fastest.