Motorcycle racing royalty of the very highest calibre is Manx shores bound next month, with 15 times World Champion, ten times TT winner Giacomo Agostini visiting the growing in popularity Classic TT Races.
Five times a Senior TT winner, the legendary Italian is set to pilot in next month's Classic Racer Magazine titled sponsored Lap of Honour parade lap, the 350 MV Agusta that took him to Dutch Grand Prix honours in 1976.
The machine now owned by Rob Iannucci is certain to attract attention a plenty, at the seventh incarnation of the Classic TT Races, in particular given that the rider at the helms of the machine, is the very same rider to have competed on it 43 years ago.
When you read the statistics, the achievements, the championships banked, all of his momentous accolades, you can see why 'Ago' is touted by many as the finest ever exponent of motorcycle racing.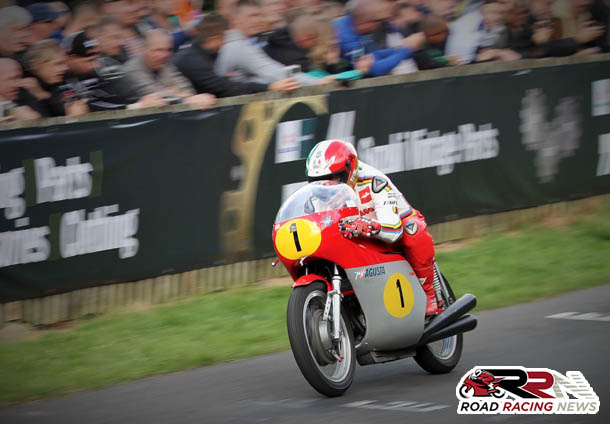 122 times a Motorcycle Grand Prix winner, he also holds the unique record of having the best race winning percentage at the TT Races, winning over 76 percent of the races that he competed in during his six plus years of competition around the fabled, mythical Mountain Course.
Race fans will have lots of opportunities next month to meet a true legend not only of motorcycle racing, but of motorsport and sport overall.
Reminder the 2019 Classic TT Races, which gets underway in just over three weeks time, takes place from the 17th-26th of August.
Words by Stevie Rial