Billy Redmayne Makes Top Class Oliver's Mount Debut
Billy Redmayne made a top class Oliver's Mount debut at the Barry Sheene Festival Powered by Suzuki.
Piloting Infront Motorcycles backed CBR 600 Honda the 2014 newcomers A Manx Grand Prix winner showed his quality in opening 600 race.
He finished an excellent fourth following a highly accomplished performance in wet conditions around the mount.
Supersport 600 race two would see another top performance from the rising road racing star, fifth place finish was achieved as he lead home fellow rising stars Mark Goodings and James Neesom.
Next pure road race meeting coming up for Billy is the Southern 100. For action around Billown he's all set for competition on Martin Bullock Manxsport's CBR 600 Honda and GSX-R 750 Suzuki.
One of the main aims for him in supersport 600 races at the popular meeting is to secure top ten finishes.
Following Southern 100 Billy is set to make his Armoy Road Races debut, then from here it's the big meeting of the year for the rider who has lapped the mountain course in the 119 mph bracket the Manx Grand Prix.
Billy holds start number four for junior and senior races as he pilots Martin Bullock Manxsport backed CBR 600 Honda and GSX-R 750 Suzuki.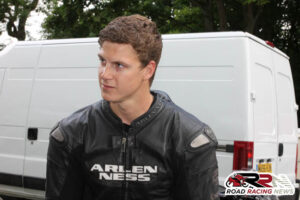 He is confident of pushing for senior Manx Grand Prix victory, plus another aim is to crack the 120 mph barrier.
Even is this years Manx Grand Prix proves to be a challenging one Billy has his sights set on competing for the first time at TT Races in 2016.
Having enjoyed a successful first weekend's action around Oliver's Mount at the Barry Sheene Festival Powered by Suzuki, return to the mount is on the cards at the prestigious Scarborough Gold Cup.
Already looking at home around the iconic road race circuit Billy has the potential to secure results of the highest quality at the 69th Scarborough Gold Cup.