Although it was overall a low key Scarborough Gold Cup for Michael Dunlop, it was a great spectacle and a great surprise to fans around Oliver's Mount, to see him competing on a full blown Buildbase BMW Superbike.
Opening race action of the 66th Scarborough Gold Cup for the 13 times TT winner, the opening Solo Open A race, would see him finish in 6th place, lapping along the way close to under 1 minute 47 seconds.
When looking likely to challenge for a top three finish, in the opening Senior race, reliability problems struck on lap three.
Fourth place finish followed in the second Senior encounter, following a tenacious, gritty and typically determined performance.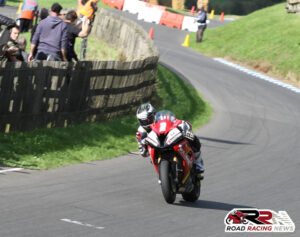 Competition around the mount, ended in disappointing fashion for the TT Races lap record holder, who endured more reliability issues on the Buildbase BMW in the Steve Henshaw International Gold Cup.
Overall it was not by Michael's standard's a good or even productive meeting, still it was great to see him in action on the Buildbase BMW, a machine and team which prior to last weekend, had not competed before at Oliver's Mount.
Hopefully in the future we will see the TT winning outfit return to the mount, which at the 66th Scarborough Gold Cup, celebrated 70 years of pure road racing competition.
Words by Stevie Rial