10/10 – Hillier/Bournemouth Kawasaki Combo Remains In Place For TT 2019
Perennial Mountain Course front runner James Hillier is quietly confident of challenging for more elite results at TT 2019, which will see him compete for the Bournemouth Kawasaki run Quattro Plant Wicked Coatings Kawasaki team.
Ultra consistent, quick, reliable, level headed the 2013 Lightweight TT winner is rightly regarded amongst the TT's most complete exponents.
One of a select group of riders to have lapped the unparalleled Mountain Course at over the 132 mph mark, the Ringwood based racer has regularly mixed it, gone wheel to wheel and beat many of his highly decorated fellow event front runners.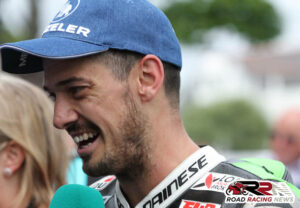 Part of the Bournemouth Kawasaki Racing fold since 2010, TT 2019 will mark ten years of TT competition with Pete Extrance's squad.
Year in year out attracting interest from various manufacturer backed teams, Hillier has shown loyalty and some in sticking each year with the reigning British Superbike champions.
Another racer who you can never ever discount from battling for race wins, it's fair to say he has surprised many over the past ten years with his form, pace and ability to mix it with the likes of Michael Dunlop, John McGuinness, Bruce Anstey, Dean Harrison and Peter Hickman.
At the same those in the know, astute roads aficionados and TT super fans, haven't been surprised at all at the feats achieved by one of International Road Racing's most respected competitors.
Words by Stevie Rial