The 25th Paeroa Road Races in New Zealand, marked the start of the 2016 pure road racing season.
Many of New Zealand's rising stars on the roads where in action, at the meeting dubbed the battle of the streets.
Reigning feature race winner at the Wanganui Road Races Tony Rees, was victorious in the blue riband kings of the streets, whilst GSX-R 1000 Suzuki mounted Scott Moir tasted victory in the second formula 1 superbike race.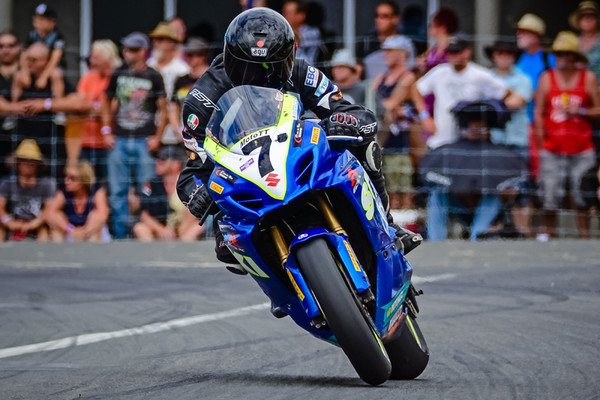 Photo by Andy McGechan
Supersport race saw Shane Richardson claim victory, whilst Adam Unsworth/Stu Dawe where the dominant force in the formula sidecar class.
Top three results across all classes at Paeroa as follows:
Post Classic Pre '82
1st Robbo Robinson
2nd Phil Clarke
3rd Graham Moorhead
Superlite Race
1st Gavin Veltmeyer
2nd Daniel Mettam
3rd Ben Rosendaal
Bears
1st Mark Perry
2nd Dwayne Bishop
3rd Stephen Leggett
Junior Classics
1st Brendon Honey
2nd Rob Chappell
3rd Royd Walker-Holt
Senior Classics
1st Mark Halls
2nd Colin Tate
3rd Peter Hansen
Formula 2 Supersport
1st Shane Richardson
2nd Damon Rees
3rd Jette Josiah
Post Classic Sidecars
1st John Blaymires/Charles Bilby
2nd Robert Hood/Mark Thompson
3rd Will Williamson/Julie Loveridge
Formula Paeroa Superbike
1st Scott Moir
2nd Toby Summers
3rd Ray Clee
Super motard
1st Scott Moir
2nd Casey Bullock
3rd Richard Dibben
Post Classic Pre '89
1st equal Mark Wigley and Phil Duxbury
2nd Glen Eggleton
3rd Andrew Skelton
Formula Sidecars
1st Adam Unsworth/Stu Dawe
2nd Chris Lawrence/Richard Lawrence
3rd Corey Winter/Kieran Whitham
Kings Of The Streets
1st Tony Rees
2nd Toby Summers
3rd Scott Moir
Words by Stevie Rial