There was no stopping 'King of the Mount' Dean Harrison on day 1 of the 67th Scarborough Gold Cup, with the world's fastest road racer dominating the opening Supersport and 1000cc encounters.
Holding off tenacious challenges from rising star Adam McLean in the opening David Jefferies Cup Supersport A race, same applied to the following Solo Open A race 1, as Silicone Engineering Racing's Harrison emerged victorious by nigh on ten seconds.
His tally of 2017 roads successes grew to 22, in the first leg of the Marshals Cup Senior races, 8.8 clear of the closely matched Daley Mathison and Ivan Lintin, with Bradford's mount conqueror dipping under the 1 minute 45 second mark on his way to victory within the eight lap race.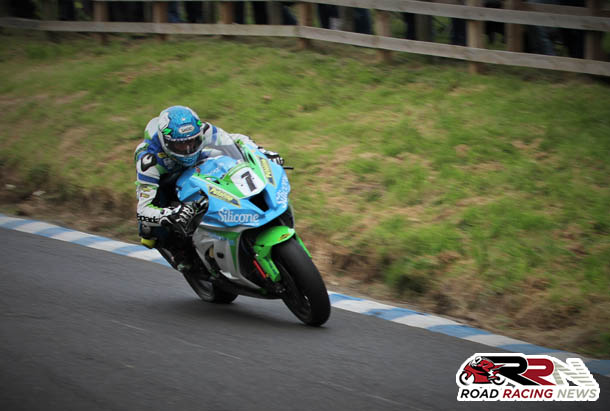 Outside of the Oliver's Mount lap record holders supreme displays, others to impress aboard 600, Superstock and Superbike machinery included David 'Action' Jackson who has established himself as one to watch in the next few years at Scarborough.
Plus Craig Neve aboard the innovative Yamaha powered DR Moto machine, newly ZX6R Kawasaki mounted James Cowton, Radcliffe's Racing's Jamie Coward, the Goodings brothers Mick & Mark and Team ILR's Joe Thompson who has shown true grit and determination to just compete this weekend.
Looking back on the opening David Jefferies Cup B Supersport and Solo Open B races, the race spoils where shared by 400 lap record holder Dan Frear and Newcomers A Manx GP rostrum finisher, Stephen Parsons.
Whilst second and third place finishes in both races respectively where clinched by Matt Stevenson, Owen Graves, Team York Suzuki's Peter Boast and Neil Bell.
Top ten finishers per race, are as follows:
David Jefferies Cup – Supersport A Race 1:
1 Dean Harrison
2 Adam McLean
3 James Cowton
4 Ivan Lintin
5 Joe Thompson
6 Jamie Coward
7 Darren Cooper
8 Mark Goodings
9 Mick Goodings
10 Mike Norbury

David Jefferies Cup – Supersport B Race 1:
1 Dan Frear
2 Matt Stevenson
3 Owen Graves
4 Ben Shuttlewood
5 James Tadman
6 Rodger Wibberley
7 Robin Howells
8 Andy Sailor
9 Nick Anderson
10 Chris Green
Solo Open A Race 1:
1 Dean Harrison
2 Adam McLean
3 Jamie Coward
4 Daley Mathison
5 James Cowton
6 Ivan Lintin
7 David Jackson
8 Mick Goodings
9 Craig Neve
10 Tom Weeden
Solo Open B Race 1:
1 Stephen Parsons
2 Peter Boast
3 Neil Bell
4 Barry Evans
5 Chris Green
6 Russell Brook
7 Dave Woolams
8 Matt Stevenson
9 Davy Morgan
10 Ben Shuttlewood
The Marshals Cup – Senior Race 1:
1 Dean Harrison
2 Daley Mathison
3 Ivan Lintin
4 Mick Goodings
5 David Jackson
6 Mike Norbury
7 Stephen Parsons
8 Brian Greenfield
9 Craig Neve
10 Barry Furber
Words by Stevie Rial