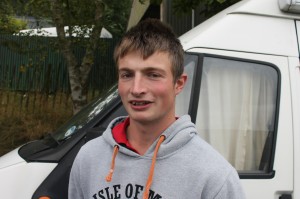 Photo by Road Racing News
James Cowton recorded more top results around Oliver's Mount during the 2014 Scarborough gold cup. Opening senior A race began with James starting from 19th on the grid, despite this he produced a battling and tenacious performance to secure an excellent fifth place finish.
Photo by Road Racing News
Super twins race 1 was next up and following a productive start James was in fourth position by the end of the opening lap. As race went on the third place finisher in this years lightweight TT kept up a good solid and consistent pace as he secured third place finish on Stewart Smith racing ER6 Kawasaki.
Second senior A race again saw James starting well down the grid, as in previous superbike race he kept chipping away on RNB plumbing backed CBR 1000 Honda Fireblade and by the end of the eight lap race he acquired highly creditable top six placing. Super twins race 2 would see the 2014 Ulster Grand Prix lightweight winner clinch second position following a superb performance on Stewart Smith racing ER6 Kawasaki which James has shown great form on throughout 2014 road racing season.
Photo by Road Racing News
So next race on the horizon for one of the fastest rising stars in pure road racing was feature race of the weekend the Steve Henshaw international gold cup. Following a frantic start into mere hairpin on lap 1 James quickly settled into a consistent rhythm and by the end of the prestigious race he was pushing Isle of Man TT lap record holder Bruce Anstey for fourth position as he secured fifth place finish.
Following 2014 Scarborough gold cup its been confirmed that James leads this years Duke road race championship, should James go onto win the highly regarded championship he will be joining only four other riders to have won the Duke road race rankings championship which are Ryan Farquhar, Ian Lougher, Conor Cummins and Michael Dunlop.