Marc Coggon Happy With Results At 2014 Scarborough Gold Cup
Photo by Road Racing News
Marc Coggon was happy with his results at this years Scarborough gold cup. Marc who made his Oliver's Mount debut back in 2012 at the Ian Watson spring cup road races thoroughly enjoys competing around a road race circuit known to many as a mini TT.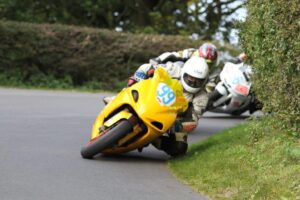 Photo by Road Racing News
Opening David Jefferies trophy b race would see Marc GSX-R 600 Suzuki mounted clinch highly respectable 8th place finish. First senior b race of the weekend would prove to be a highly productive one for the enthusiastic road racer as he secured 11th place finish.
Photo by Road Racing News
Second senior b race proved to be a momentous one for Marc who recorded personal best lap time of 1 minute 58.562 seconds around the mount. Plus at the end of an all round entertaining race he acquired consistent 12th place finish.
For 2015 Marc is aiming to make his Manx Grand Prix debut on Tef transport backed GSX-R 750 Suzuki and there's no doubt that Marc will prove to be one of the most popular newcomers to the iconic road race next year.