Spain had strong representation at the 2016 Manx Grand Prix, with two of the countries leading pure road racers, enjoying a positive week of racing on the Mountain Course.
One of the competitors Manx GP debutant Raul Torras Martinez, stated prior to the Newcomers A race, that it was a dream come true to be competing on the Isle of Man.
He went onto finish an excellent sixth, along the way lapping at 115.62 mph, on the Martimoto's backed YZF R6 Yamaha.
His first two weeks of Mountain Course action, ended with a very respectable 23rd place finish, in the blue riband Senior race.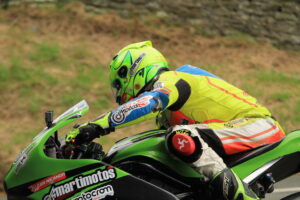 Photo by Jim Gibson
Fellow Spaniard Victor Lopez Santos made up for the disappointment of not finishing the Junior race, by securing a top quality finish of eighth position in the Super Twins encounter.
This result was backed up in the Senior race, with a 35th place finish, following a tenacious and determined performance.
Both Victor and Raul this week have provided some of the most memorable moments, produced by competitors from Spain on the Mountain Course, in the 2010's to date.
Photo by Nick Wheeler
Like fellow compatriot Antonio Maeso, they have the same characteristics as riders, they are enthusiastic about racing, ambitious and are top ambassadors for pure road racing in Spain.
Words by Stevie Rial