Four decades a closed roads competitor, Super Twins class specialist Dave Moffitt is the next racer to take part in Road Racing News rising in popularity, Manx GP Top 6 series.
2011 Super Twins Manx GP winner, 11th within the Lightweight TT of 2012, his answers to the Mountain Course themed set of questions are as follows:
Q1: When you first competed at the Manx, what was your first initial thought of the Mountain Course?
"Wow, it was so different to all the laps I'd previously done in the car, van and road bike. I was hooked after the first full lap, first ever lap was curtailed at Ballahutchin."
Q2: Most memorable Manx GP bike?
"The ex GP carbon fibre framed Silverstone Armstrong I rode in 87 for Harold Nuttall was very special and worthy of note however the most memorable would have to be the SV650 (Suzuki) I won the 2011 Super Twin Manx on."
Q3: Most treasured memory from the Manx?
"Got loads of fantastic memories but the standout one has to be exiting Windy corner on the last lap in P1 +17 about to realise a childhood dream. I had to have a word with myself and regain my concentration. Incredible feeling pulling into the winners enclosure."
Q4: Is there one specific Manx GP competitor that you look up to?
"I admire every competitor because of the hard work and dedication they've had to put in to line up on Glencrutchery Road."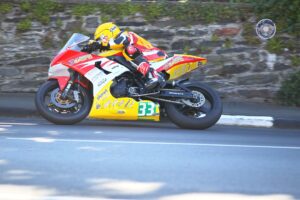 Photo by Nick Wheeler
Q5: Describe the Manx GP in one word?
"Amazingly incredible."
Q6: Finally, if you could race one machine from any series, championship around the Mountain Course, what would it be?
"RVF750R (Honda)"
Words by Stevie Rial