TT 2014 would prove to be Karl Bennett's most successful TT. Karl and Lee Cain competing in Bennett Racing outfit, clinched back to back fifth place finishes in the Sure Sidecar races. Karl explains "TT 2014 proved a tough start, with little practice I knew I needed to put a good lap in, to get a good start number.
We did on the Friday night, 110.3mph from a standing start, my first 110mph, fastest lap ever so far and from then on it got better. P5 in race 1, with race average over 110mph and again on Thursday P5 with 110mph average, the conditions were quite tough over the mountain but we still managed our fastest ever lap 111.625 and overall, TT 2014, my best to date."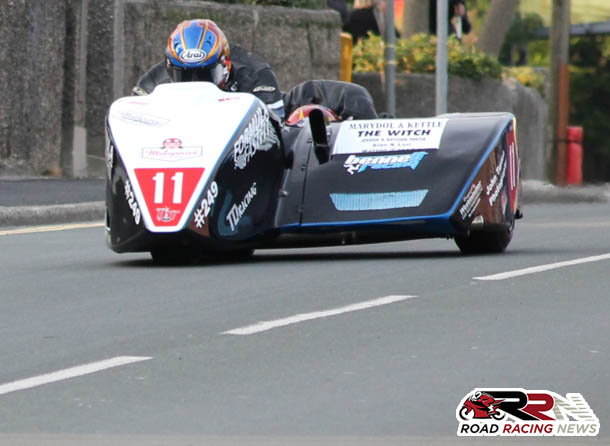 Since making his TT debut in 2005, Karl has always relished the challenge of competing on the mountain course. In his own words he enjoys every part of the most iconic of all road race circuits.
"Favourite part is hard to choose, as I love it all from start to finish, if I had to pick one it would be, Ginger Hall to Ramsey Hairpin, the only corner I am not keen on, is Kate's Cottage, takes my breath away every time."
Karl is targeting a sub 20 minute lap at TT 2015 alongside aiming to record his first sidecar TT podium finish. "I want to win more than anything and it probably is a couple of years off but I am going to keep chipping away at."
Another important meeting for Karl is the Southern 100, the Friendly Races and was asked if he would be returning in 2015? "Definitely returning to the Southern 100 after the TT, my favourite track and meeting, again really want a podium there in 2015, was gutted not to get on the podium in 2014."
Finally it was put to Karl what word could describe Road Racing, "Mega" was his response, which could well be the word we will be using to describe his 2015 Sidecar road racing season, as Karl, is regarded by many, as a TT winner in the making.
Road Racing News thanks Karl for answering the questions and wishes him and Lee all the very best for the 2015 Road Racing Season.