2013 Lightweight TT winner James Hillier has recently expressed his confidence of contending for Supersport, Superstock and Superbike honours at the 2017 Vauxhall International North West 200, with action around the Triangle, beginning tomorrow morning.
A frequent front runner in the Super Twins class around the Triangle, James is electing this year to forgo competition on 650 machinery, as he focuses his efforts solely on the Supersport and premier 1000cc classes.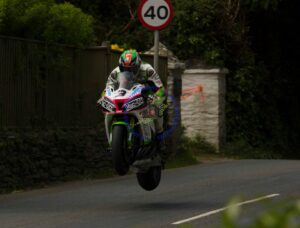 Photo by Jim Gibson
Rated highly by his peers, James stature within the pure road racing fraternity, has grown vastly over the last four years.
Having gained track time a plenty, via action in the British Supersport and Superstock championships, plus series of tests within the UK and Spain, he's confident of enjoying a prodigious week of competition on the coast roads aboard the JG Speedfit Kawasaki's.
James stated:
"I've done more testing and preparation than ever before so I'm ready to get going now!
Dropping the Lightweight machine has allowed me to focus all my efforts on the 600cc and 1000cc and I'm already noticing the benefits, while the bikes themselves have felt really good both in testing in Spain and in the two British Championship meetings we've done.
We're in good shape and while I'm not one to make predictions and say I'm going to win this and win that, I'll be getting stuck in and am confident we'll be at the sharp end in all of the classes."
JG Speedfit Kawasaki, Team Owner, Pete Extance, added:
"After a fantastic start to the BSB season, the JG Speedfit Kawasaki team is now turning its attention to the international road race season with James Hillier.
Whilst the North West 200 is very important to gain some podiums, the team will be looking to fine tune the bikes ready for the Isle of Man TT races where we will be looking for wins and podiums throughout race week."
Words by Stevie Rial