Increasing his championship lead to now in excess of 30 points, Wepol Racing's Matthieu Lagrive showcased again today at Chimay within the opening ten lap Supersport race, the qualities that are making him firm favourite to become the 2018 IRRC Supersport series champion.
Victorious by over five seconds, whilst the calm, professional, ice cool Lagrive once again set the pace out front, BeNecup Supersport race 1 victor Laurent Hoffmann also impressed, producing a first rate performance on route to finishing in second place.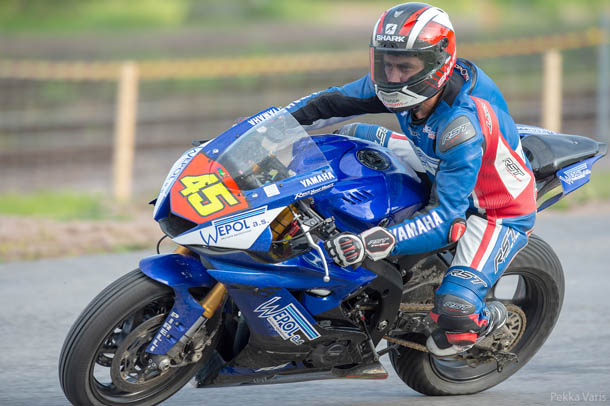 Photo by Pekka Varis
Not to far behind former IRRC Supersport champion Hoffmann in third place, was event wildcard Come Geenen who got the better of Performance Racing Achterhoek's Pierre Yves Bian in the battle for the final spot on the rostrum.
Thomas Walther banked fifth, Terlicko winner Jonathan Goetschy battled to sixth, as Lukas Maurer, Ilja Caljouw secured respectively solid seventh, eighth place finishes.
Wrapping up the first ten finishers were prospective Manx GP debutant John Pilloud, and Finland's Anssi Koski.
Outside the top ten, others to claim very creditable results included Miroslav Sloboda (11th), Kai Zentner (13th), Boris Liegeois (14th) and Alexandre Bigot (16th).
IRRC Chimay – Supersport Race 1 results, are as follows:
1 Matthieu Lagrive
2 Laurent Hoffmann
3 Come Geenen
4 Pierre Yves Bian
5 Thomas Walther
6 Jonathan Goetschy
7 Lukas Maurer
8 Ilja Caljouw
9 John Pilloud
10 Anssi Koski
11 Miroslav Sloboda
12 Martin Riedl
13 Kai Zentner
14 Boris Liegeois
15 Sebastian Frotscher
16 Alexandre Bigot
17 Nicolas Robert
18 Mike Ceuppens
19 Wayne Bourgeais
20 Yann Micheli
21 Jimmy Wauters
22 Cedric Guerlot
Words by Stevie Rial