Enhanced Machinery Line Up For Matt Mylchreest's 2017 Roads Campaign
Douglas based Matt Mylchreest, has an enhanced machinery line up for the 2017 roads season, which is all set to include a third Manx Grand Prix campaign.
Back in 2015, his Manx GP debut, saw him in action on a 17 year old CBR 600F Honda. Despite the age of the stead, Matt propelled the machine to an extremely creditable 12th, gaining praise from guest Manx Radio TT commentator, 23 times TT winner John McGuinness.
Photo by Nick Wheeler
His second two weeks of Mountain Course competition, at last years Manx GP, saw him wrap up 28th and 33rd place finishes in the Junior and Senior, along the way lapping close to the 114 mph mark, with lap speed of 113.84 mph.
Set to pilot again this year the Gorilla Racing ZX6R Kawasaki and CBR 1000 Honda Fireblade, plus a newly acquired 650 Suzuki Super Twin, his 2017 roads schedule sees him alongside the Manx, returning to Billown for the Post TT and Southern 100 meets.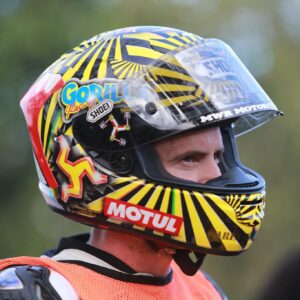 Photo by manxmania.com
It was back in 2013, at the Southern 100, when Matt first moved into roads competition. His dad Peter, part of the commentary team at Jurby, witnessed in 2013 his son win the Andreas Association Steel Frame machines title.
An additional ever present part of the Gorilla Racing team, is sponsor Paul "Gus" Turner".
Matt can't thank enough his dad and Paul, for their help and support since he began racing in 2011. He would also like to thank sponsors MGTW, IOM Farmers and Mark from the Shore Hotel.
Amongst a growing group of riders, more than capable of taking the next step, to push for top 15 finishes or better at the Manx Grand Prix, Matt Mylchreest is one to watch on the roads this year.
Words by Stevie Rial