Chris Beauman's 3wheeling.media company have been officially revealed as the new headline sponsors for the three lap Sidecar races of TT 2020.
Taking over the title sponsorship reigns from Locate.im, 3wheeling are established amongst the greatest modern day supporters of Sidecar racing.
The firm's documentary feature 3 Wheeling, which starred the likes of Dave Molyneux, Dan Sayle, Tim Reeves, Patrick Farrance of Klaus Klaffenbock helped hugely in raising the profile of Sidecar action within the pure road racing scene and wider motorsport fraternity.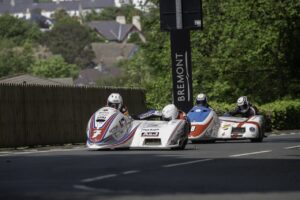 Photo by Mark Corlett
Sidecar competition at the TT, provides fans with something different, something alternative to solo action, something unique, raw and authentic.
As synonymous with the TT as Davisons Ice Cream, Nobles Park, the fabled, mythical Mountain Course, the standard of three wheeling action at the world's most famous road race in recent times, has been nothing short of incredible.
The current Sidecar TT king pins are no question the all conquering, ten time event winning Birchall brothers Ben & Tom.
The first crew to lap at in excess of the 119 mph lap mark, it's going to take faultless, impeccable, other worldly performances from the opposition to stop them adding to their TT wins tally in 2020.
You can't discount though the opposition which now includes rising stars like the Founds brothers Alan & Pete, the Crowe brothers Ryan & Callum from giving the iconic Mansfield pair something to think about next year in what are certain to be compelling, thrilling, enthralling 3wheeling.media Sidecar TT encounters.
Words by Stevie Rial