95 drivers, passengers combined have claimed finishes of sixth or better, from Sidecar TT competition across the previous two decades.
Record holder for most three wheeling top six TT finishes (2000-2019) is twice Mountain Course victor, four decades a TT competitor, John Holden.
Holden throughout the past twenty years has taken no less than 24 top six finishes, including aforementioned two TT victories.
The most successful Sidecar TT driver in history in terms of wins Dave Molyneux, has 18 top six finishes to his credit since 2000.
Whilst 10 more drivers, passengers have ten plus top six TT finishes post the year 2000. They are the following: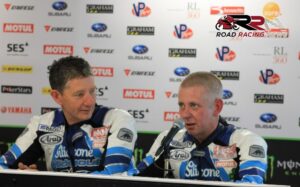 Andy Winkle (17 – most successful passenger), Dan Sayle (15), Conrad Harrison (15), Tim Reeves (15), the late great Steve Norbury (12).
Patrick Farrance (12), Ben Birchall (12), Tom Birchall (12), Gary Bryan (11) and former TT lap record holder Nick Crowe (10).
The full list of those to bank top six Sidecar TT finishes from 2000-2019, reads as follows:
(Number of top six finishes located near racer's name)
John Holden 24
Dave Molyneux 18
Andrew Winkle 17
Dan Sayle 15
Conrad Harrison 15
Tim Reeves 15
Steve Norbury 12
Patrick Farrance 12
Ben Birchall 12
Tom Birchall 12
Gary Bryan 11
Nick Crowe 10
Roy Hanks 9
Dave Wells 9
Jamie Winn 9
Mike Aylott 9
Lee Cain 9
Darren Hope 8
Scott Parnell 7
Rick Long 7
Alan Founds 7
Stuart Bond 6
Simon Neary 6
Ian Bell 6
Andrew Smith 5
Phil Dongworth 5
Klaus Klaffenbock 5
Greg Lambert 5
Tony Baker 5
Pete Founds (Driver) 5
Jevan Walmsley 5
Rob Fisher 4
Gary Horspole 4
Kevin Leigh 4
Ben Dixon 4
Mark Lambert 4
Colin Hardman 4
Allan Schofield 4
Stuart Castles 4
Mark Cox 4
Gregory Cluze 4
Karl Bennett 4
Jake Lowther 4
Mark Wilkes 4
Neil Carpenter 3
Mark Hegarty 3
Nigel Connole 3
Gary Partridge 3
Tony Elmer 3
Darren Marshall 3
Dougie Wright 3
Carl Bell 3
Matt Dix 3
Shaun Parker 3
Lewis Blackstock 3
Patrick Rosney 3
Geoff Bell 2
Craig Hallam 2
Ivan Murray 2
Andrew Laidlow 2
Pete Founds (Passenger) 2
Dipash Chauhan 2
Kerry Williams 2
Paul Knapton 2
Kris Hibberd 2
Martin Hull 2
Tom Peters 2
Wayne Lockey 2
Mark Sayers 2
Steve Ramsden 2
Matty Ramsden 2
Ian Simons 1
Mick Harvey 1
Stephen Thomas 1
Jake Beckworth 1
Steven Hedison 1
Bill Currie 1
Christian Parzer 1
Steve Coombes 1
Jason Slous 1
Robert Handcock 1
Ken Edwards 1
Mike Cookson 1
Jason Crowe 1
Gary Knight 1
Dan Knight 1
Ben Binns 1
Aki Aalto 1
Maxime Vasseur 1
Fiona Baker Holden 1
Ryan Crowe 1
Callum Crowe 1
Phil Hyde 1
Estelle Leblond 1
Frank Claeys 1
Words by Stevie Rial #dontletfearcontrolyou