Solely catering again for Super Twins steeds, the Manx GP Supporters Club Junior race promises enticing, enthralling competition at the upcoming, 100th Anniversary Manx Grand Prix. 11 nations feature in the race entry-list plus no less than 19 newcomers and multiple rostrum-finishing contenders.
Amongst the strong favourites for standing on the podium include local aces Marc Colvin and Jamie Williams. Williams came close to class spoils twelve months ago and has the undoubted credentials to front run again whilst No.1 plate holder, RC Racing's Colvin, showed last year via a third-place finish that he's more than proficient on the fabled, mythical Mountain Course. Global talents looking to strike quite the impression include Andrea Majola (Italy), Team ILR with Frog Vehicle Developments team-mates Victor Lopez Santos (Spain), Maurizio Bottalico (Italy).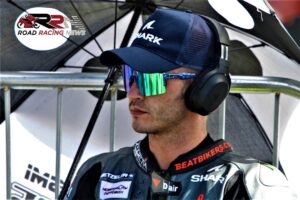 Wayne Bourgeais (France), Erik Kjuus (Norway), Richard Kay (USA) and Veronika Hankocyova (Czech Republic). Joining the aforementioned amongst the Super Twins field include a group of hungry, ambitious next generation roads forces. To name but a few there's 'Tommy Club' inductee Dan Ingham (Castings Technology Aprilia), 2018 Newcomers B race winner, Paton pilot Michael Rees, fitness permitting David McConnachy. Eoin O'Siochru , Mike Mace, Liam Chawke brother of previous class conqueror James Chawke, Michael Gahan. Jack Fowler, Heattech Racing's Yamaha powered Sam Mousley, FB Racing's Daniel Forbes, Alex Sinclair, No Limits Racing Super Twins Champion elect Lewis Arrowsmith. Further depth to the entry is provided by improving, experienced, returning event stalwarts such as Sidecar TT legend, VRS Racing Kawasaki pilot Dan Sayle, Rodger Wibberley, Jason Corcoran (JRC Groundworks). Andy Lovett (AWL Engineering), Mark Herbertson (Herbertson Racing/GBS Racing), Cowton Racing supported Paul Marley, Alun Brooks, Wayne Axon (TART Racing).
Event first timers due for Junior race action include Marcus 'Spartacus' Simpson, Pre-TT Classic yesteryear Superbike winner Joe Yeardsley, Cookstown & Armoy race winner this year Anthony O'Carroll. Hill climb specialist Salvatore Sallustro, former professional skier Gerald Dath, Jacque Foley, Mark Johnson and McKinstry Racing backed Owen Monaghan. All in all, a well-balanced Junior race field and one that is certain to compel fans watching trackside. Photo credit: Mark Corlett, Nick Wheeler Words by Stevie Rial #dontletfearcontrolyou