Kingston Upon Hull's Callum Ward had a solid second Manx GP voyage, which saw him secure series of bronze replica finishes.
Race week for the Oliver's Mount specialist aboard his own teams RRS Recovery backed YZF R6 Yamaha, began with a very respectable 40th place finish within a record breaking Junior race.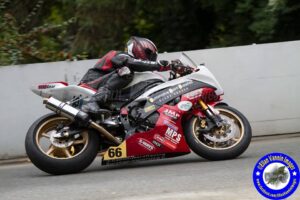 Photo by Jim Gibson
An even more fast paced Senior race would see him seal his second best Manx GP result to date, finishing 33rd along the way lapping close to the 114 mph mark, with a best lap speed of 113.956 mph.
Speaking afterwards via his Facebook racing page, a happy Callum said:
"The race today was delayed from 10:30 for two hours due to the mist and weather conditions over the mountain.
After waiting around all morning, the race finally started at 12:15, I started 57th on the road and got a good start with a clear run. I caught a few slower riders but managed to get nice clear passes on them not causing to much of a hold up, putting in a 113 mph lap.
The 2nd lap was another nice clear run getting really settled in to the bike and feeling comfortable after finally getting the suspension settings we needed.
Catching another rider near the end of the second lap and passed him coming into the pit lane, we had another faultless pit stop. On the 3rd lap I caught another two riders and passed them quick enough.
I started to catch another guy, and tried to make a pass through Kirk Michael but we ended bashing elbows at over 140 mph while trying to make the pass, eventually l ran out of wide road and couldn't pass safely so I backed off and followed him until finally I made a pass coming into the Creg.
Unfortunately I ended up out-breaking myself coming into Sign Post corner, running wide and just missing the kerb so I just cruised it back around the next two corners bringing it across the line putting in my fastest lap of the week at 113.9 mph, finishing 33rd out of 63 finishers.
Another personal best average lap of 113.95 mph, personal best overall race speed of 112.23 mph, personal best senior result of 33rd place. Overall another good race and good result.
Thanks to my Dad Andy and Cameron for being pit crew again.
Thanks to all my sponsors for making it all possible:
Automotive paint supplies hull, Autoservices Anlaby, Into Gear, Japtech Hull Ltd, JMP Transport, Kingston Clearing Services, Micro Precision Engineering (MPS Bridlington), Naylor's Electrical Services, Pitstop Motorcycles, RRS Recovery Services, Spares Unlimited, Strypz Vehicle Branding Limited."
Words by Stevie Rial