The 2019 FIM Europe affiliated European Hill Climb Championship kicked off in fine style over the past weekend, with top class action and some on the famous Austrian based Landshaag course.
Renowned TT, Manx GP exponents in action included Italy's quickest Mountain Course competitor, Stefano Bonetti.
Bonetti who will once again form part of Paton's Lightweight class challenge at TT 2019, secured third, second place finishes within the Superbike time trials, which were respectively won by Andreas Gangl and Wolfgang Gammer.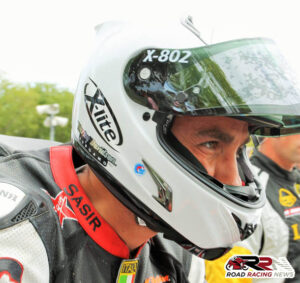 Outside of Bonetti's feats, fellow countryman, fellow proven Mountain Course exponent Francesco Curinga showed impressive, high calibre form on route to banking series of runner up placing's on the Supersport time sheets, which was headed by Rafael Neuner.
The second round of the 2019 European Hill Climb Road Race Championship series, will see competitors making another trip to Austria, to take on the Julbach course.
The meeting takes place one week after competition at TT 2019 concludes, running from the 15th to the 16th of June.
Overall results per class from the Supersport, Superbike races at Landshaag, are as follows:
Supersport Race 1:
1 Rafael Neuner
2 Francesco Curinga
3 David Lignite
4 Marc Gilardi
5 Uwe Rademacher
6 Mauro Poncini
7 Salvatore Sallustro
8 Christian Mario Ciullo
9 Federico Raffaele Mercurio
10 Julien Purro
11 Simona Zaccardi
12 Daniel Kronschlager
Supersport Race 2:
1 Rafael Neuner
2 Francesco Curinga
3 David Lignite
4 Marc Gilardi
5 Uwe Rademacher
6 Mauro Poncini
7 Christian Mario Ciullo
8 Salvatore Sallustro
9 Federico Raffaele Mercurio
10 Julien Purro
11 Simona Zaccardi
Superbike Race 1:
1 Andreas Gangl
2 Wolfgang Gammer
3 Stefano Bonetti
4 Christian Wiesinger-Mayr
5 Jean-Luc David
6 Romain Cleaz-Savoyn
7 Thomas Mitgutsch
8 Ossi Niederkircher
9 Uwe Rademacher
10 Nicolas Rovelli
11 Toni Rechberger
12 Jurgen Plattner
13 Salvatore Sallustro
14 Williams Allonzi
15 Daniel Kronschlager
Superbike Race 2:
1 Wolfgang Gammer
2 Stefano Bonetti
3 Andreas Gangl
4 Jean-Luc David
5 Christian Wiesinger-Mayr
6 Romain Cleaz-Savoyn
7 Nicolas Rovelli
8 Uwe Rademacher
9 Thomas Mitgutsch
10 Ossi Niederkircher
11 Toni Rechberger
12 Salvatore Sallustro
13 Jurgen Plattner
14 Williams Allonzi
15 Daniel Kronschlager
Words by Stevie Rial