Billy Redmayne impressed greatly going quickest in newcomers A Monday nights practice session at 2014 Manx Grand Prix. Billy lapped at 108.260 mph as Shane Egan 2013 Irish road race senior support champion showed he had adapted quickly to the mountain course by lapping at 107.419 mph.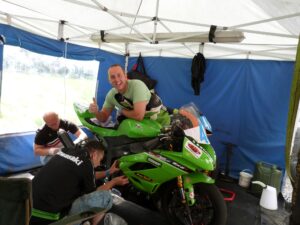 Photo by Road Racing News
Matthew Rees was third fastest with lap speed of 105.149 mph as Simon Morgan, Rob Livesey, Joseph O'Brien, Joe Newbould, Frank Gallagher, David Sellars and Davey Lambert completed top 10 during a practice session which saw 16 riders lap at over 100 mph for the first time.
Photo by Louis Porter
Eddie Venn competing on DP Coldplaning/TCR racing ER6 Kawasaki was leading newcomer in newcomers B practice with lap speed of 102.758 mph. Barry Furber was second quickest as Dean Osborne top six finisher in super twin races at Southern 100 went third fastest.
Jack Hunter lapped at 95.709 mph on Blue Bear racing ER6 Kawasaki to prove why many people believe Jack will have a top Manx Grand Prix. Charles Rhys Hardisty, Stephen Nathan, Nick Anderson, Mark Watson, Aaron League and Ali Foster rounded out the top ten.
Gav Brown lead the way in newcomers C class lapping at over 90.5 mph. Lancelot Unissart was second quickest as Simon Long, Andrew Cowie, James Caswell-Cox, Sam Johnson, John Bain and Robert Pragnell completed top eight.