Synonymous with his trusty YZF R6 Yamaha steed, which carries a tribute to all time hero David Jefferies, Bude's Ross Orchard who have acquired no less than seven top 50 MGP finishes, is next to take part in Road Racing News rising in popularity Manx GP Top 6 series.
Nicknamed the 'Cornish Stig', Orchard who banked very respectable top 45 finishes in last August's Junior, Senior Manx GP races, answers to the Mountain Course themed set of questions are as follows:
Q1: When you first competed at the Manx, what was your first initial thought of the Mountain Course?
"2016 was my Manx debut and having had many years going to TT as a helper/sponsor plus venturing to 3 MGP's previous, I knew course knowledge was key. Initial thoughts were can't believe I'm doing this for real what a buzz."
Q2: Most memorable Manx GP bike?
"Obviously my Yamaha YZF R6."
Q3: Most treasured memory from the Manx?
"Most treasured memories acquiring my 3 replicas."
Q4: Is there one specific Manx GP competitor that you look up to?
"None they all deserve respect."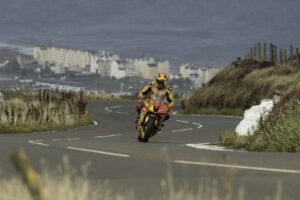 Photo by Mark Corlett
Q5: Describe the Manx GP in one word?
"Magical"
Q6: Finally, if you could race one machine from any series, championship around the Mountain Course, what would it be?
"Yamaha 0W02 YZF R7 as it's never done the Senior race. I would like to make history being the first to do so."
Words by Stevie Rial